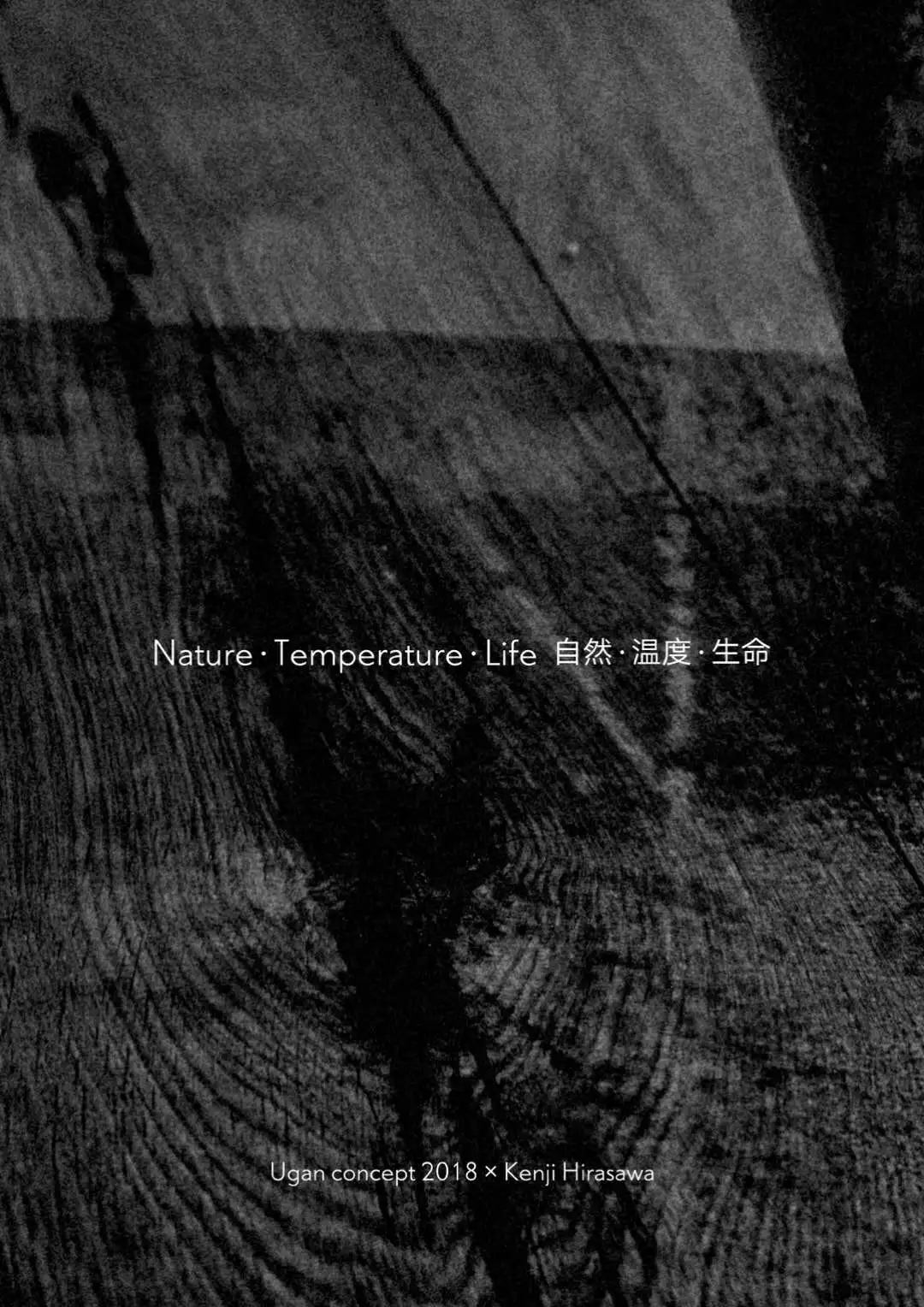 Nature·Temperature·Life
Ugan concept 感物 2018 × Kenji Hirasawa
日本艺术家Kenji为感物拍摄了一组名为:"Nature·Temperature·Life"的艺术作品,利用热感应摄影技术记录下不同动物的表面肌理,并延伸出山峰、陆地、海洋的意境。透过作品,我们仿佛能看到按下快门那瞬间自然、温度和生命的信号。
Kenji, a Japanese artist, filmed a group of works of art called "Nature Temperature Life", using thermal induction photography to record the surface texture of different animals and extend the artistic conception of mountain, land and sea. Through the work we seem to see the signals of nature, temperature, and life when the shutter is pressed.
以下是对kenji的独家采访
Here's an exclusive interview with kenji
为什么会用拍摄动物来为感物拍摄照片,两者间你找到了什么共同点吗?
K:自然,温度以及生命是我在触碰感物时带给我的最大感受。我选择了动物作为我们寻求美学灵感的源泉。在了解感物过程中,不断有新的想法和观念:木身上留有年轮和樟节,动物身上带有皮肤的肌理和毛发。它们都承载着生命的迹象,让我们感受生命的温暖。
Why did you use animals in your shootings for Ugan Concept? Did you find anything in common between them?
K: Nature,temperature and life are the greatest feelings what Ugan concept bring to me when I share with them . I chose animals as a subject to explore our esthetics. In the process of understanding Ugan concept, new ideas and concepts constantly put forward. Wood has annual rings and the knots. And the animals have the skin texture and fur. They all carry signs of life and let us feel the warmth of life.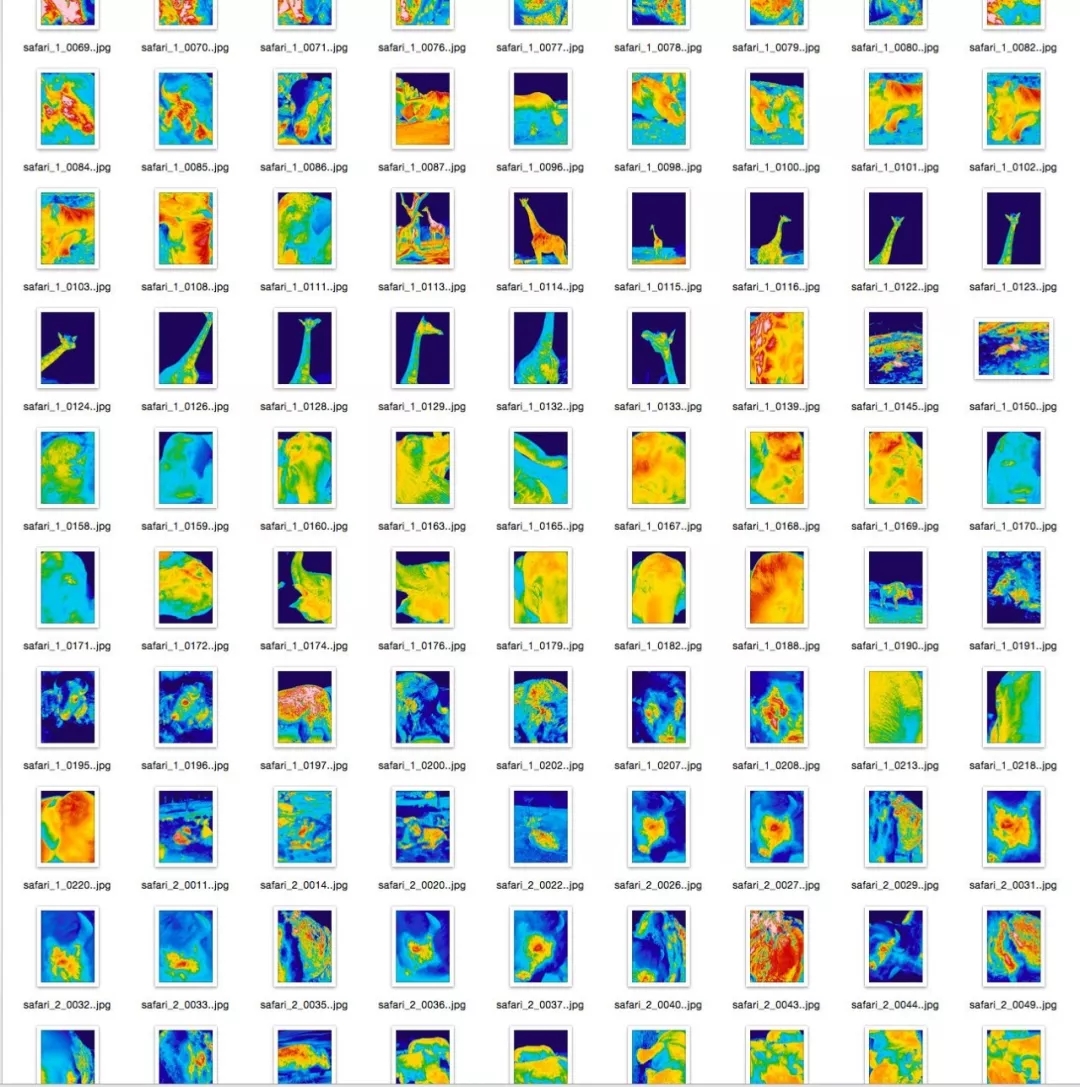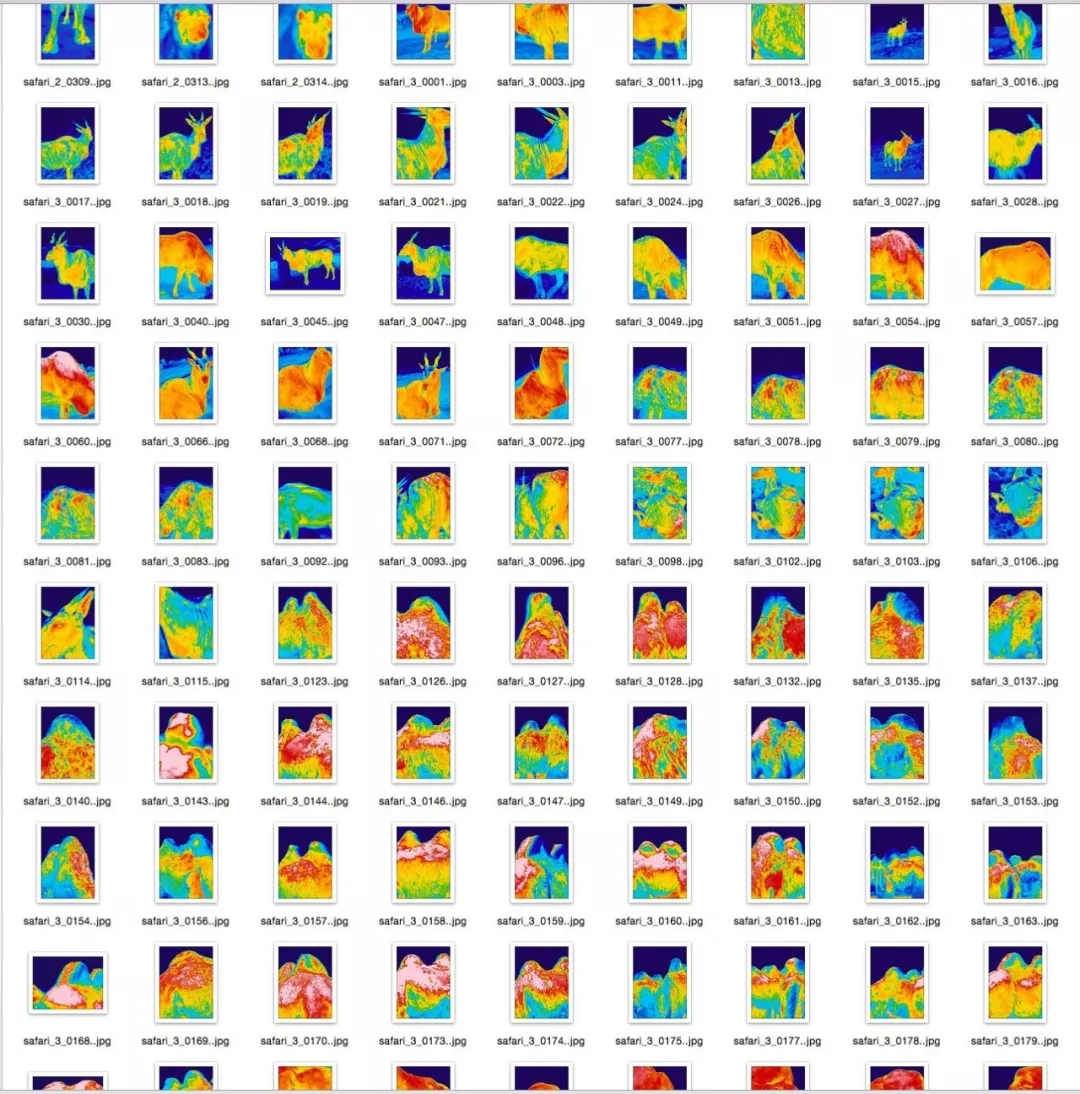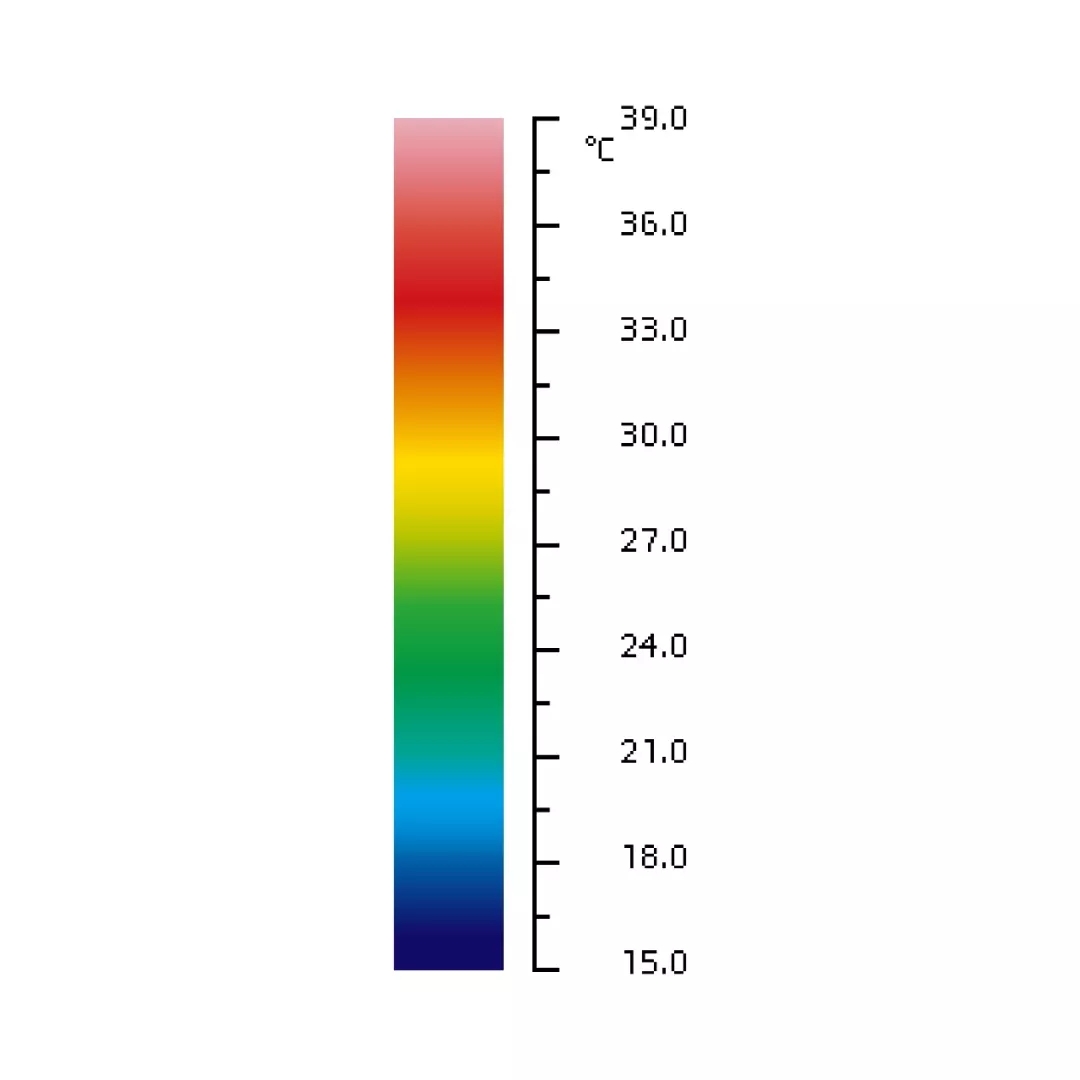 关于这系列作品的命名非常有意思,能给我们介绍下作品本身吗?
K:我给作品取名为"Nature·Temperature·Life",在中文意为"自然·温度·生命"。人类包括其他生命体的生活都存在于这些空间中,我对它一次又一次仔细的剖析。山峰形象来自骆驼,陆地来自于大象,海洋来自水牛。我表现生命体与自然特征之间关系时刻意放大它们的局部,通过热感应的镜头融合在一起,图像里的"山峰·陆地·海洋"基本形成了人类的生活空间。他们之间彼此影响和联系着,当时我意识到,任何生命都是附着在自然里,自然本身就是强大生命的存在。
The name of this series is very interesting. Can you introduce to us about the works?
K:I named the series "Nature·Temperature·Life". Human and other creatures are all living in these spaces. I made analysis and dissection again and again on them. The image of mountain came from camel,the land came from elephant, and the ocean came from buffalo. I deliberately enlarged certain parts of them in my presentation of the relation between life forms and the natural features, combining them with images created by the thermographic camera. The "Nature · Temperature ·Life" in the images are influenced and connected with each other, forming people's basic living space. At that moment, I realized that all the life forms are adhered to nature and nature itself is an existence with powerful life.
作品展示
Work display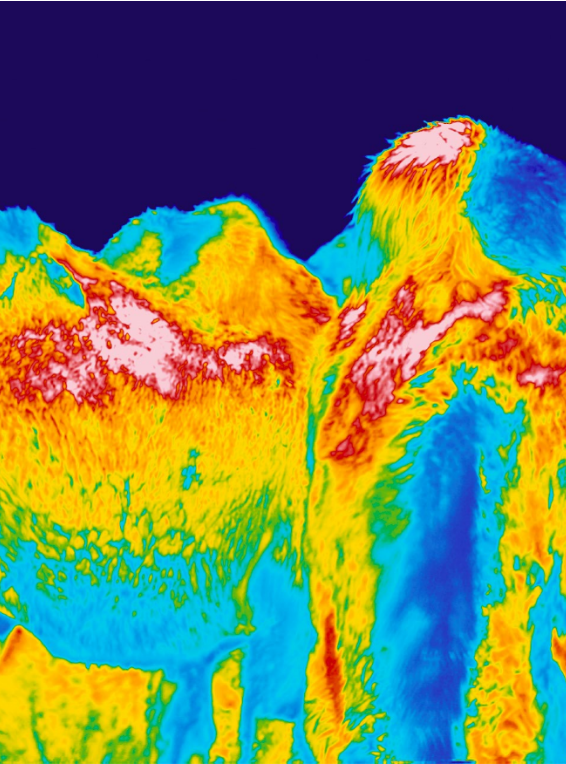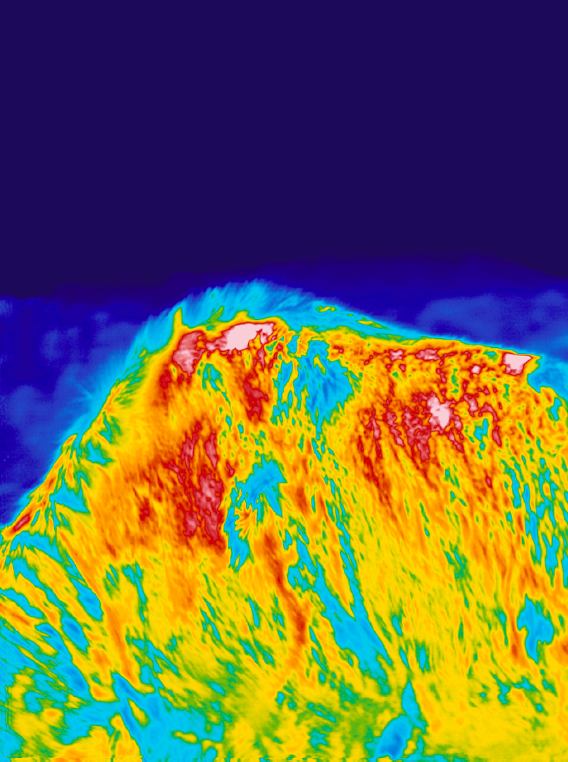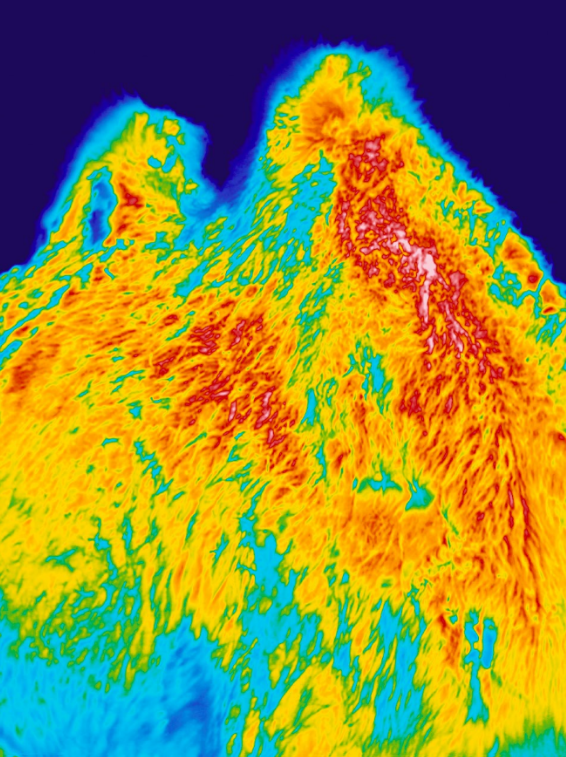 △骆驼代表山峰(A camel stands for a mountain)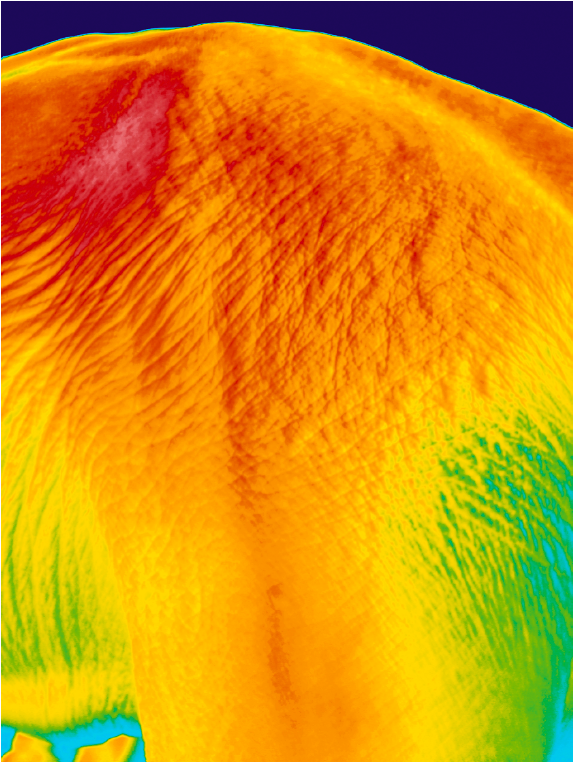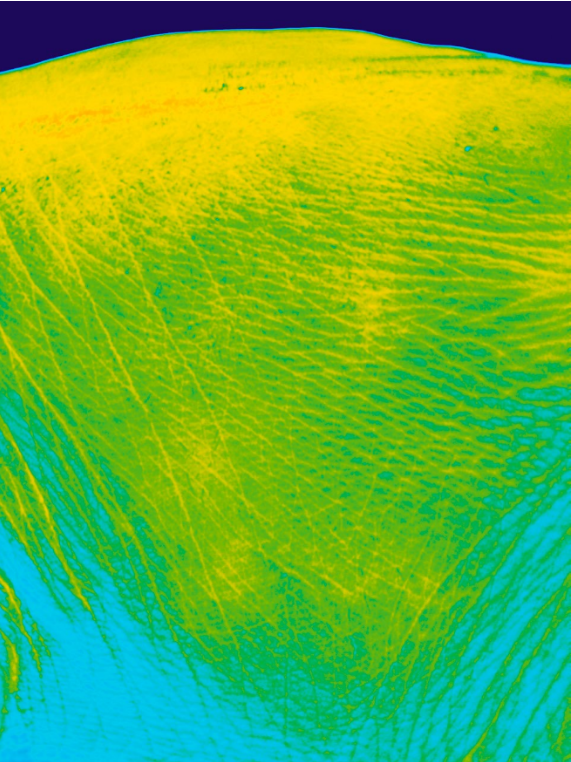 △大象代表陆地(Elephants represent land)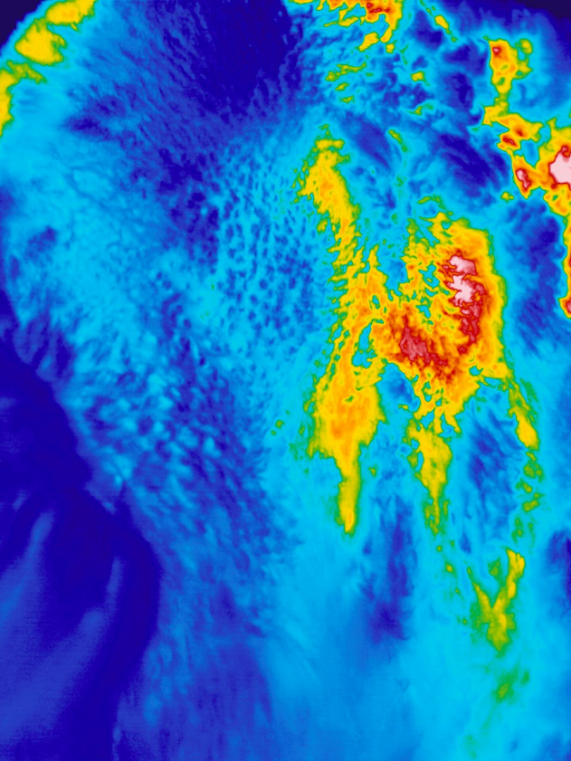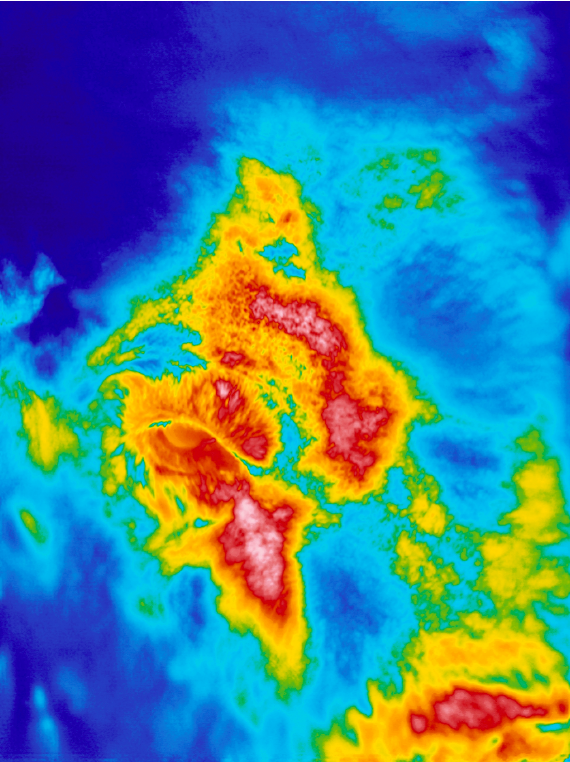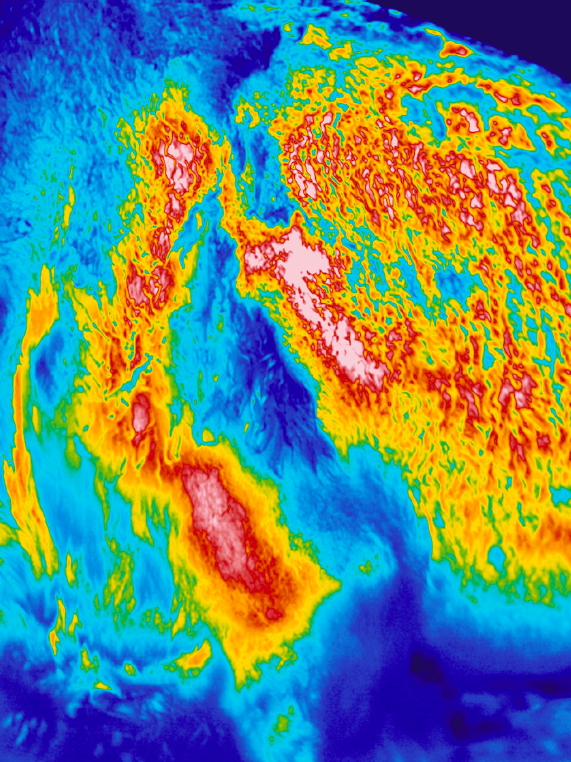 △水牛代表海洋(Buffalo represents the ocean)
艺术的感知凭借直觉,从Kenji Hirasawa作品上看不到死气沉沉的平面感。作品中的每一颗细小像素都在记录着生命体的特定温度,随着每一帧作品的呈现,引发人们对摄影对象的无数互动:猜想,趣味,分析,不安分感,概念......如同感物对空间与地板关系的隐喻——他们都在以看似静态的形式试图与生命产生互动,人们可以从作品直接明确到"生命"的信息,而不是感知生命概念。
Artistic perception depends on intuition, from Kenji Hirasawa works can not see the plane feeling of stillness. Every tiny pixel in the work records the specific temperature of the living body, and with the presentation of each frame of work, there are countless interactions between the subjects of photography: conjecture, interest, analysis, restlessness, concepts. Like sensational metaphors of the relationship between space and floor-they are trying to interact with life in a seemingly static way, people can make sense of the message from work to "life" instead of perceiving the concept of life.