瓦是土木建筑中常见的用来做屋顶的材料,瓦的起源几乎和中华文明一样悠久,但当时的瓦多以陶土为材料。
Tile is a common material used for roofing in civil engineering, which is almost as old as the Chinese civilization, and the original roof tiles were made of clay.
一次偶然的机会,我们发现在中国的西南地区,仍保存着一些传统民居是使用木头做瓦的。我们不禁好奇,这些木瓦是如何突破遇水变形的特性,几十年来历经风霜雨雪而仍不腐烂?带着这样的疑问,我们对此进行了深入的探寻。
By chance, We found that in the southwest of China, there are still some traditional dwellings with wooden shingle roofs. We couldn't help but wonder how these wooden shingles could break through the characteristic of easy deformation in water and survive the wind, rain and snow for decades without rotting. With such questions, we conducted an in-depth investigation.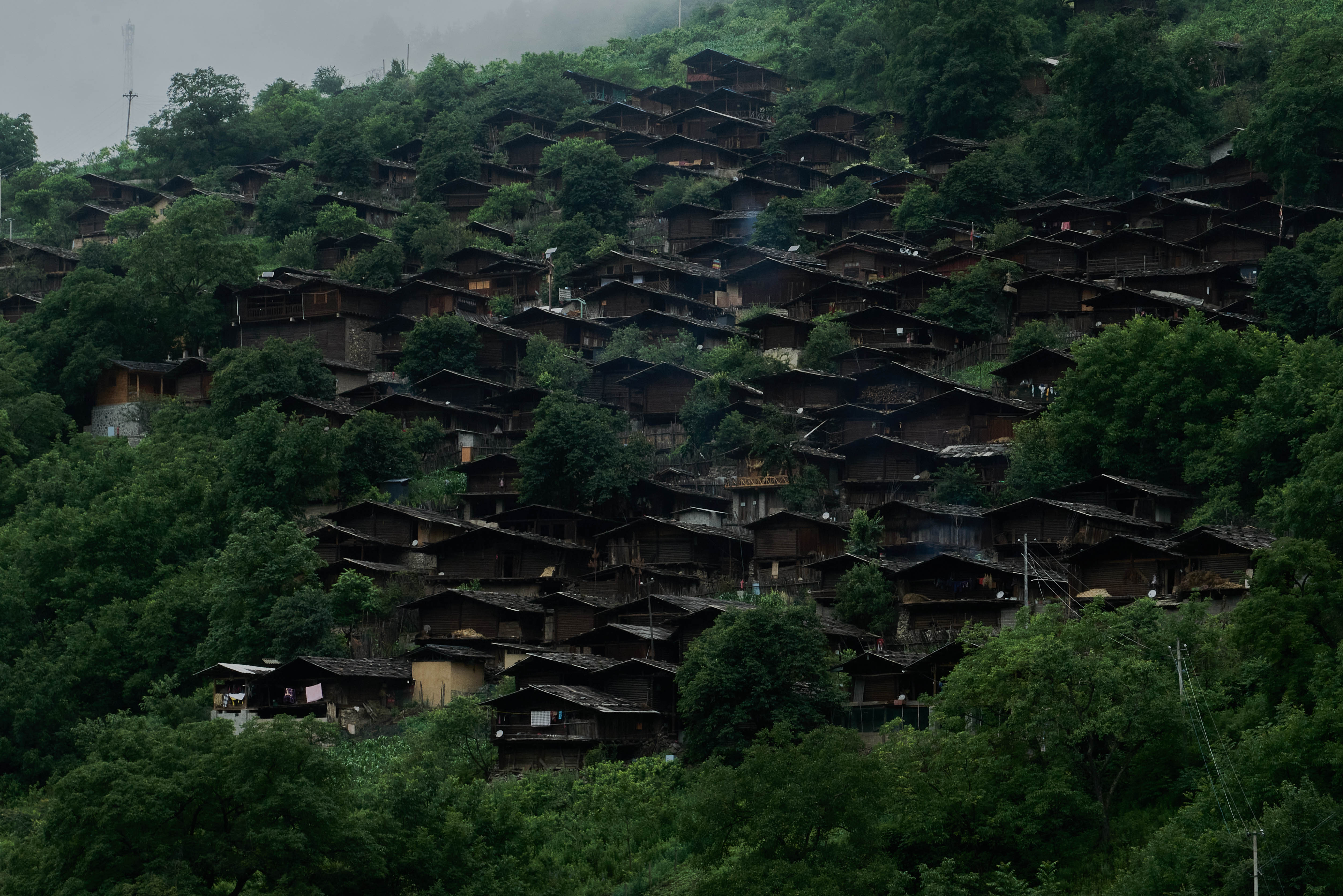 Special wooden shingles
我们在参与和支持融设计图书馆关于[中国传统材料之木材料大漆]的研究过程中,通过大漆手艺人范建军了解到:大漆产品能使用几百年甚至上千年,除了得益于大漆的保护,还有一重要因素便是胎体的稳定性——而胎体中有80%都是使用木头的。同时,我们又考察了一些山西的古建筑,发现其木质建筑材料跨越千年至今却依然保持完好。
While supporting and participating in the Rong Design Library's research on Lacquer and Wood Materials, we learned from Fan Jianjun, a craftsman, that the reason why lacquer products can be used for hundreds or even thousands of years is not only because of the lacquer's protection, but also because of the stability of the embryo, 80% of which is made of wood. At the same time, we visited some ancient buildings in Shanxi and found that their wooden building materials have remained intact for thousands of years.

这两点引发了我们对中国传统方式制作木头的思考:为什么我们现代技术下的木头几百年就会自然解体,而这些传统方式制作的木头却能历经千年?带着这样的疑问,我们在[范邱漆研所]与黄大拿的指引下,开始了对中国传统方法处理木头的研究。
This prompted us to think about the Chinese traditional way of making wood: Why is it that wood materials made by our modern technology disintegrate naturally after a few hundredyears, whereas ancient buildings in Shanxi and otherplaces use wood made in the traditional way, and theyhave lasted for thousands of years? With this questionin mind, we began our research on "Traditional ChineseMethods of Wood Treatment" under the guidance of"Fan&qiu Lacquerware Research Institute"and Dana Huang.

在这个研究过程中,我们发现了中国西南地区少数民族的一种木楞结构的传统民居。这些民居的瓦与我们常见的瓦片不同,它以木为瓦、覆于屋顶,没有任何现代技术的加工处理却能历经风霜雨雪。
In the process, we discovered a type of traditional wood-framed dwellings inhabited by ethnic minorities insouthwest China. The shingles of these houses are different from common shingles in that they are made of wood. These shingles laid on the roof have not been processed by any modern technology, but are able to withstand rain, snow and wind.

How do wooden shingles survive rain, snow and wind without rotting?
经过对当地建筑的考察,我们发现这些木质瓦板历经风霜雨雪而不腐,主要与地理位置、传统的劈和撕的工艺以及日常使用中的烟熏三个方面有关。
After the investigation of the traditional "Waban House", we found that the reason why these wooden shingles can survive the test of wind, rain and snow is related to the local materials and the use of traditional craftsmanship in its making, as well as the smoke it is subjected to in its daily use.


首先,这些木楞瓦板房多依山傍水,在林木环绕的高山或斜坡上成片而建。拥有丰富的森林资源,当地人会就地取材建造自己的房子。
First of all, most of these waban houses are built in patches on mountains or slopes surrounded by forests. With abundant forest resources, the local people will build their houses with local materials.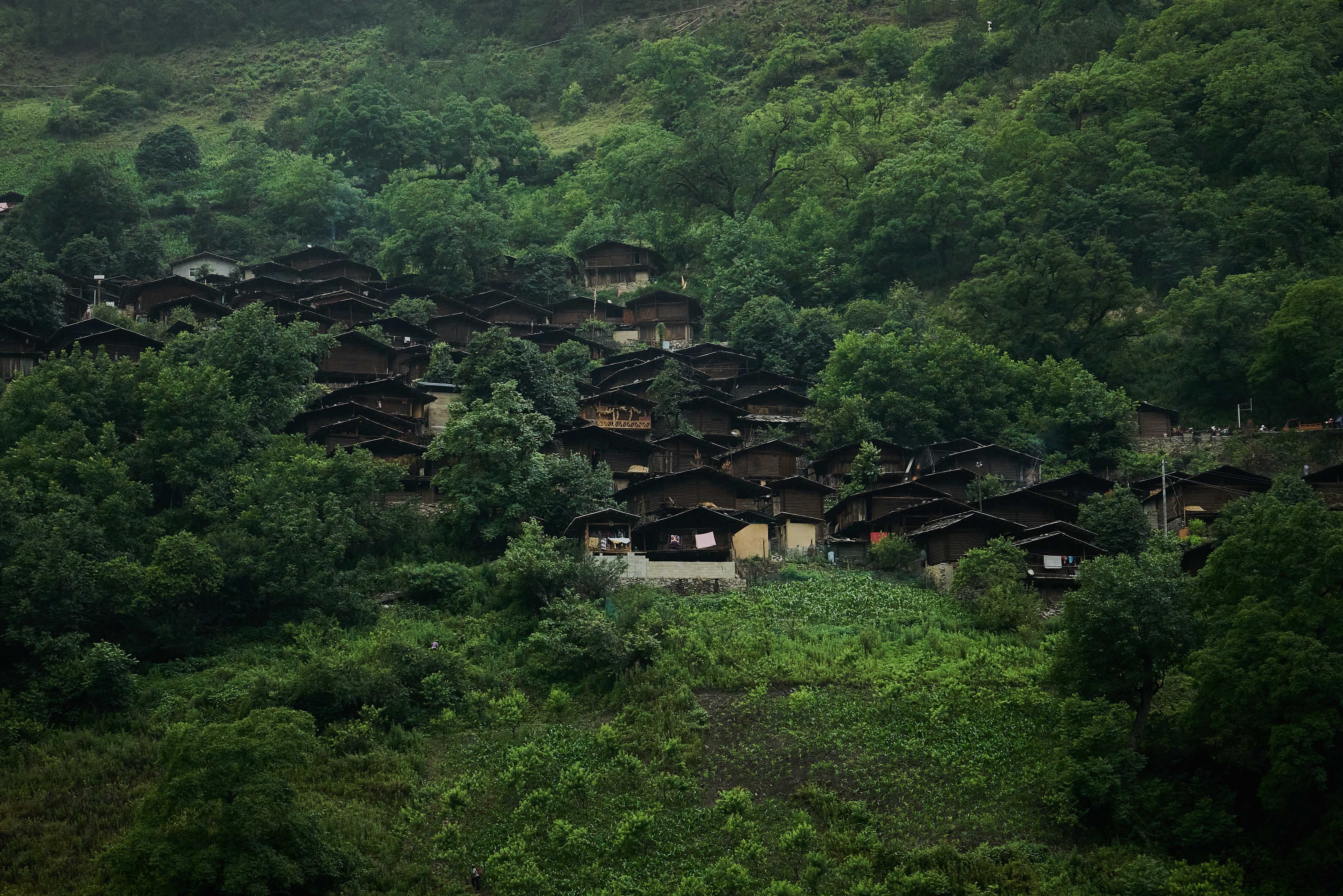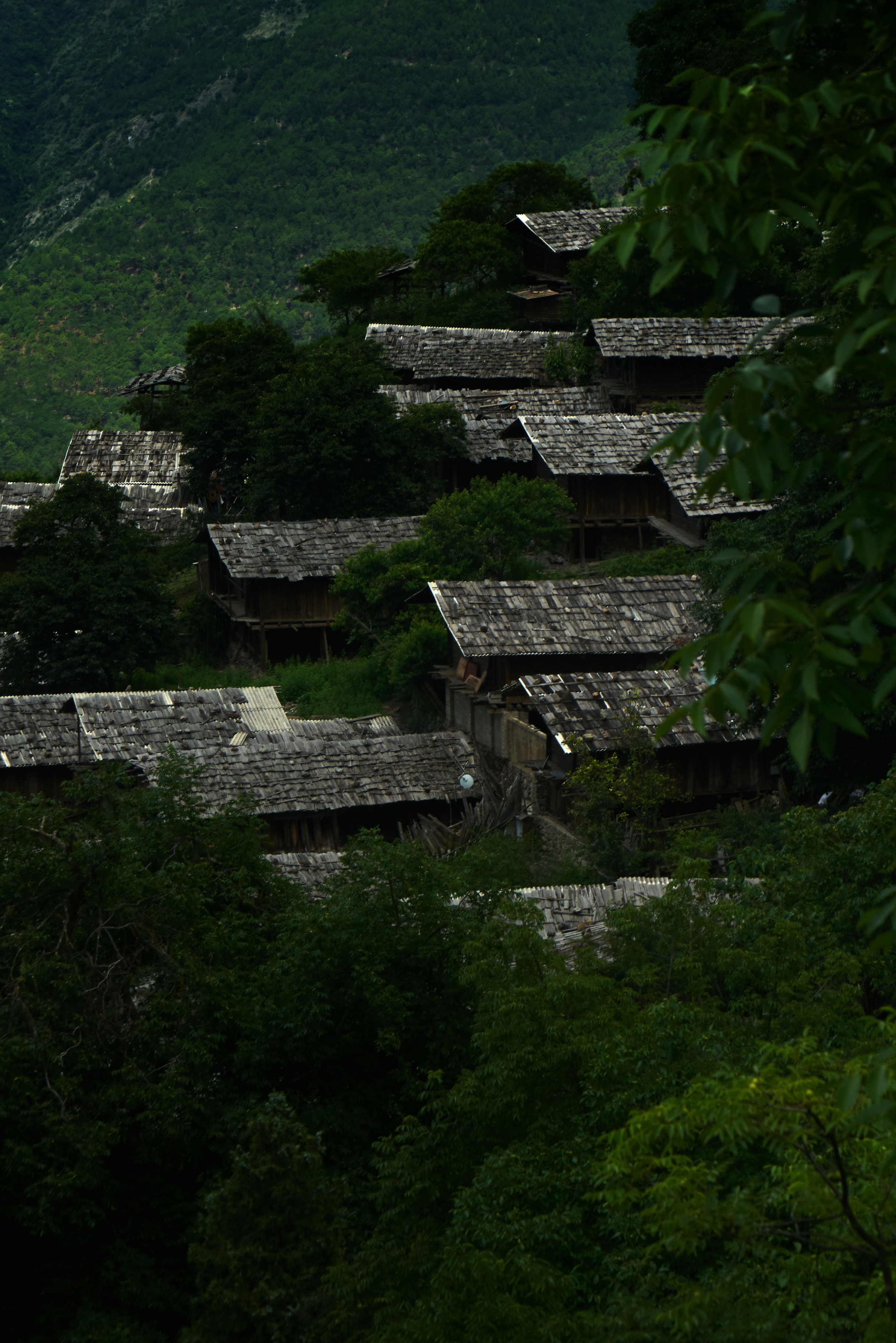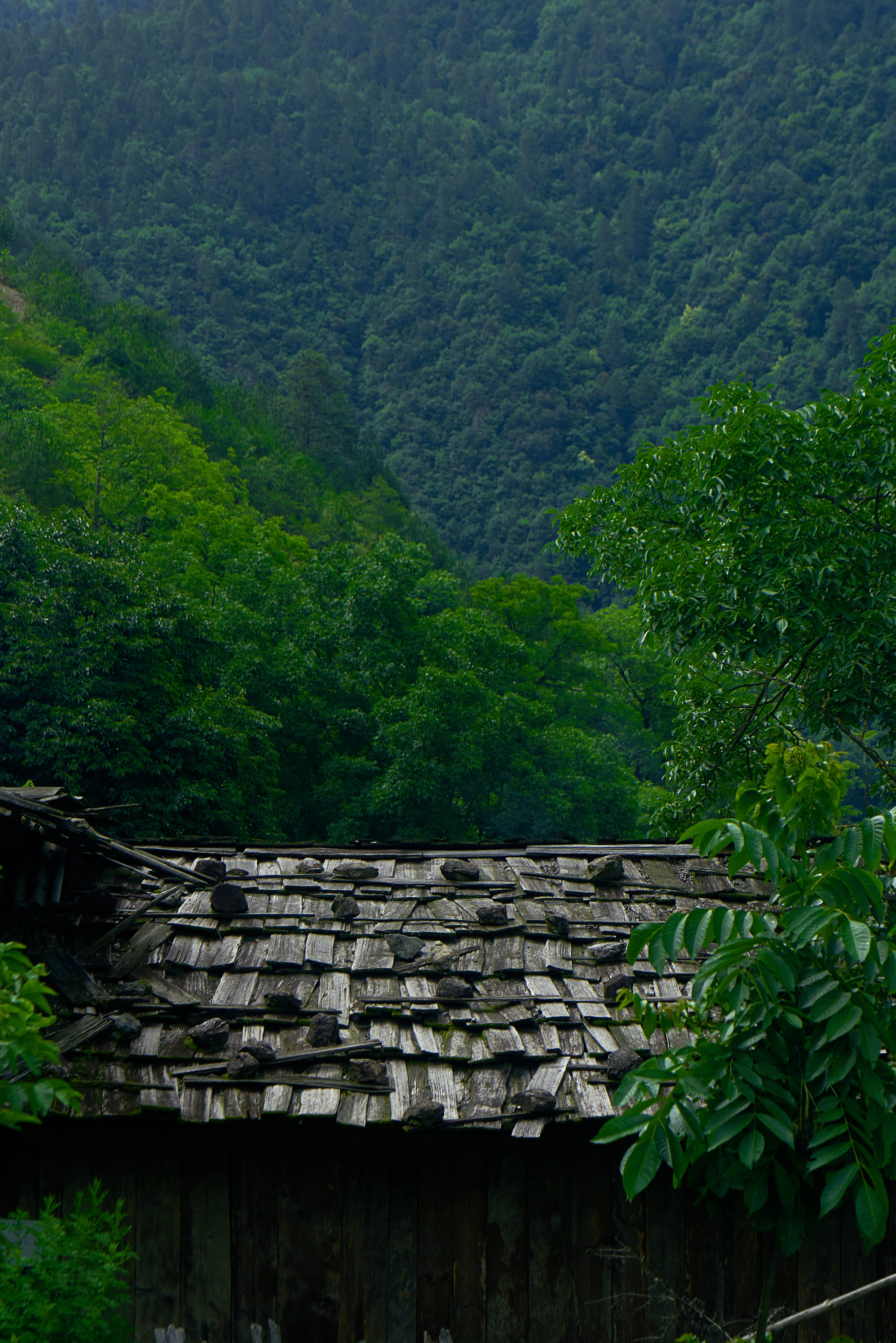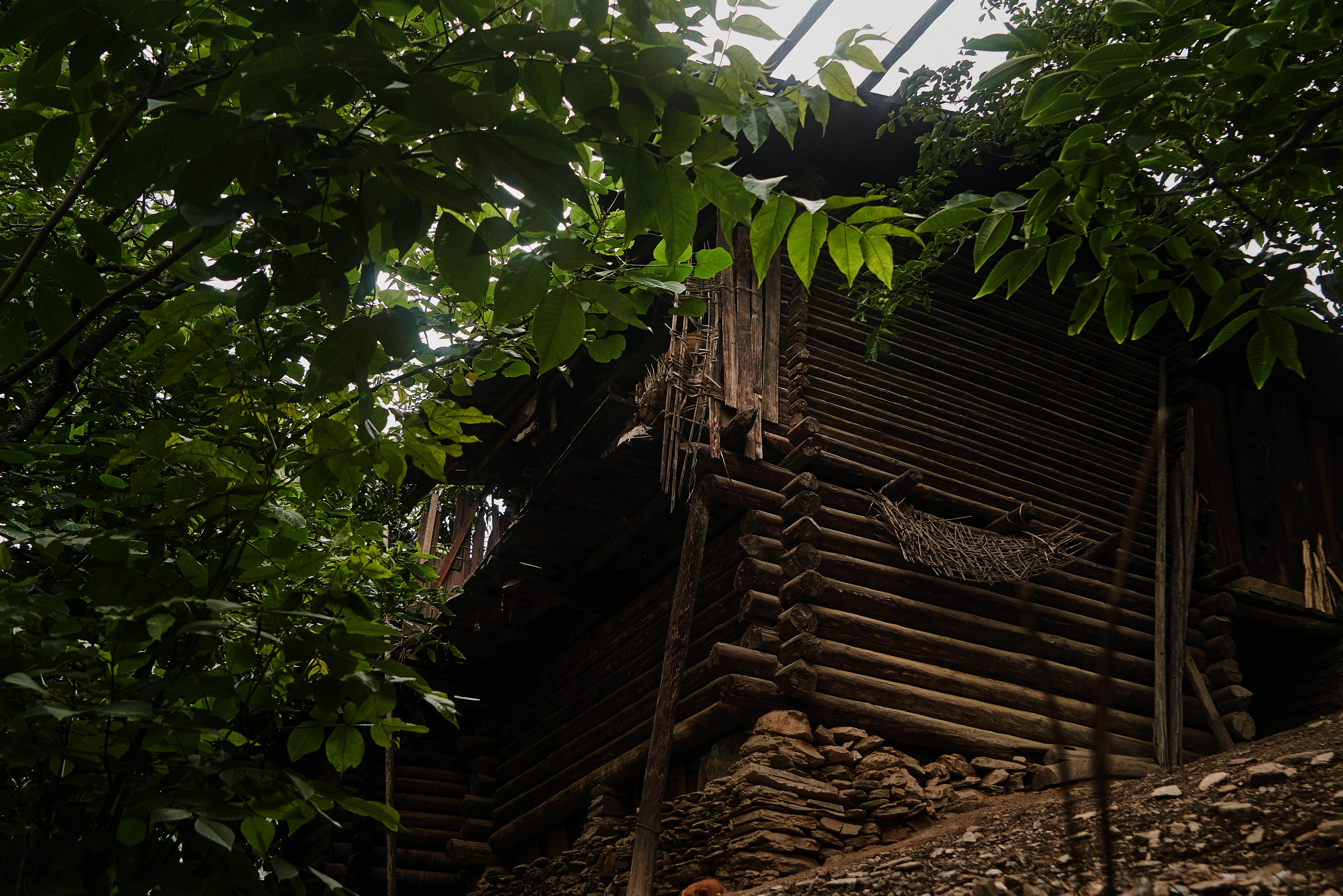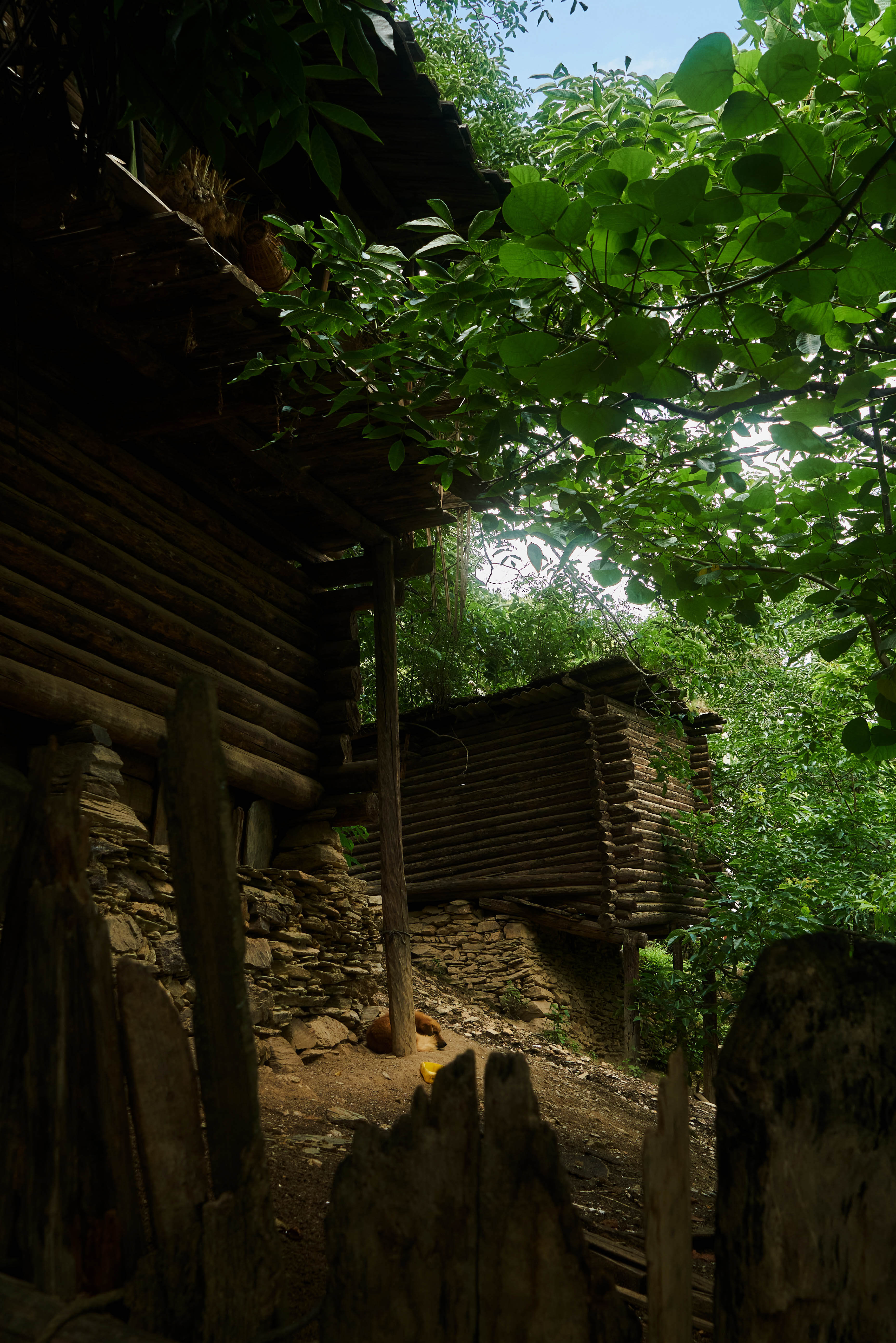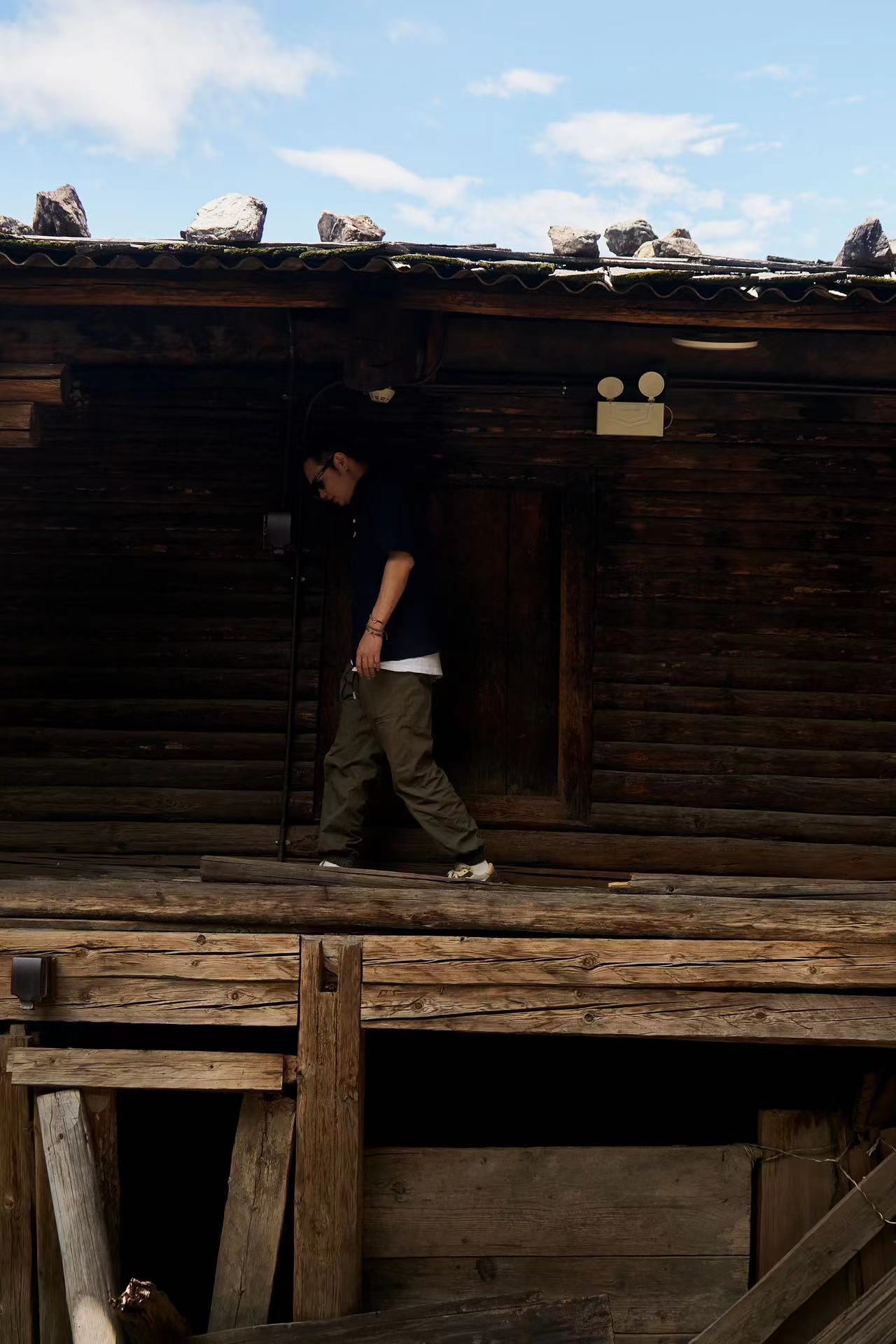 感物创始人王国华探寻瓦板房‍‍‍
与能够产出优质桧木的阿里山地区相似,西南地区也同样纬度低、海拔高、光照充沛,从而为优质的冷杉或红松的生长提供了良好的条件。冷杉树笔直、挺拔,樟节比较少,纹路顺直、易于分解,且具有能够防潮、防裂的天然油脂;红松木也同样拥有通直的纹理,木材细致、耐腐性强。
Similar to the Alishan region, which is capable of producing high-quality hinoki, the Southwest region also has low latitude, high altitude, and abundant light, thus providing good conditions for the growth of high quality fir or red pine. Fir trees are straight, upright, with fewer camphor knots, straight grain, easy to decompose, and have natural oils that can prevent moisture and cracks; red pine wood also has straight grain, and the material is fine and highly resistant to decay.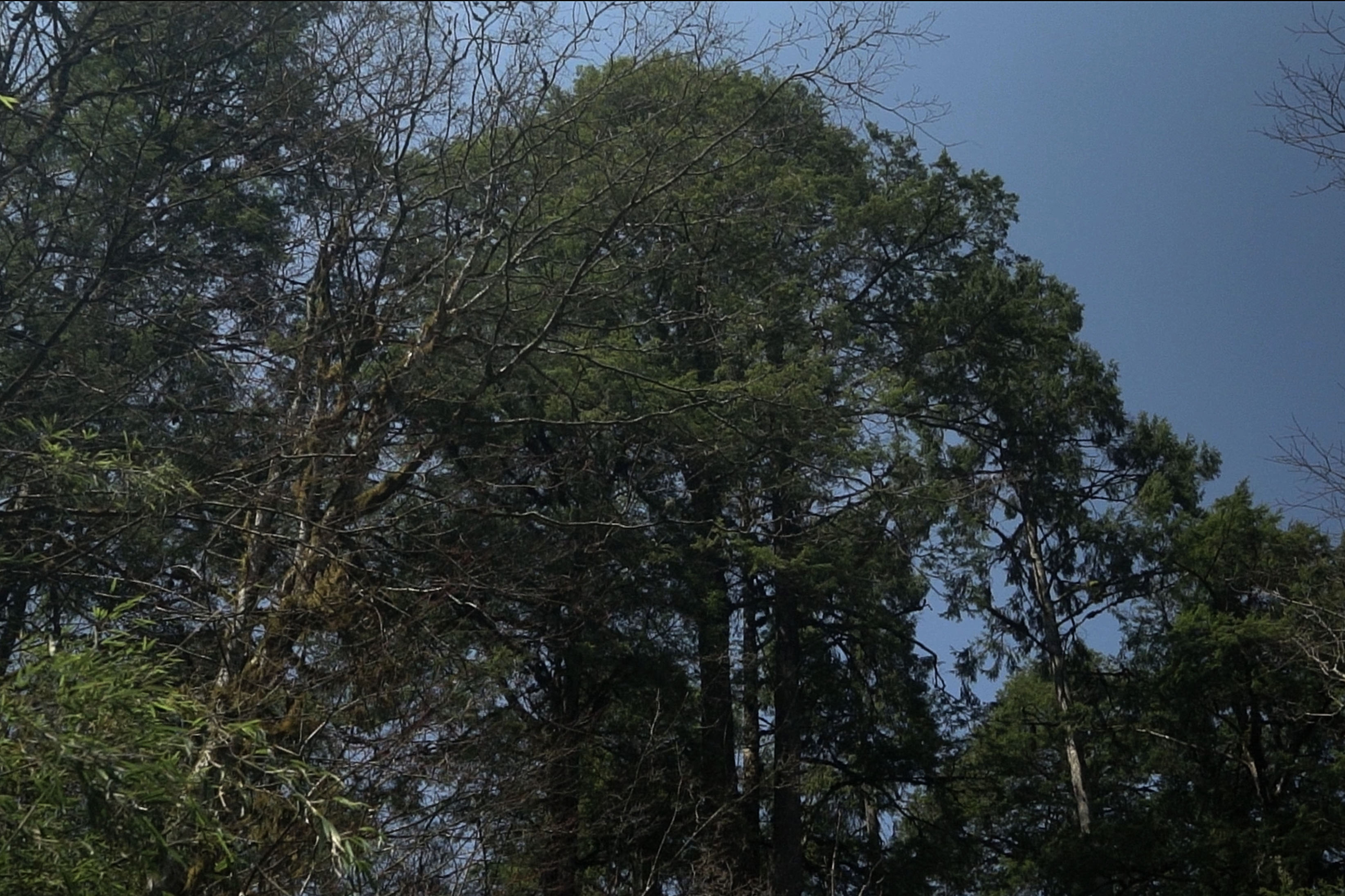 其次,瓦板制作时会使用一种传统的木头制作方式——劈和撕的工艺。这种工艺是将伐取的木料先垂直于年轮截面用刀斧劈开,接着顺径切纹继续劈撕,让木板顺着导管纹路自然分解,从而得到直线纹路的木瓦。这样制成的木瓦未破坏树干中的木导管结构,水很难渗透到里面,从而顺着木纹自然流下,起到防雨水的效果。
Secondly, the shingles are made using a traditional way of making wood - the splitting and tearing. This process involves first splitting the harvested wood with a knife and axe perpendicular to the cross-section of the annual rings, and then continuing the splitting and tearing process in a radial direction, allowing the wood to naturally break down along the grain of the wood conduit, thus obtaining a wood shingle with a straight grain. The wood conduit structure of the shingles made in this way is not destroyed, making it difficult for water to penetrate, thus flowing naturally down the wood grain and providing a rain-proof effect.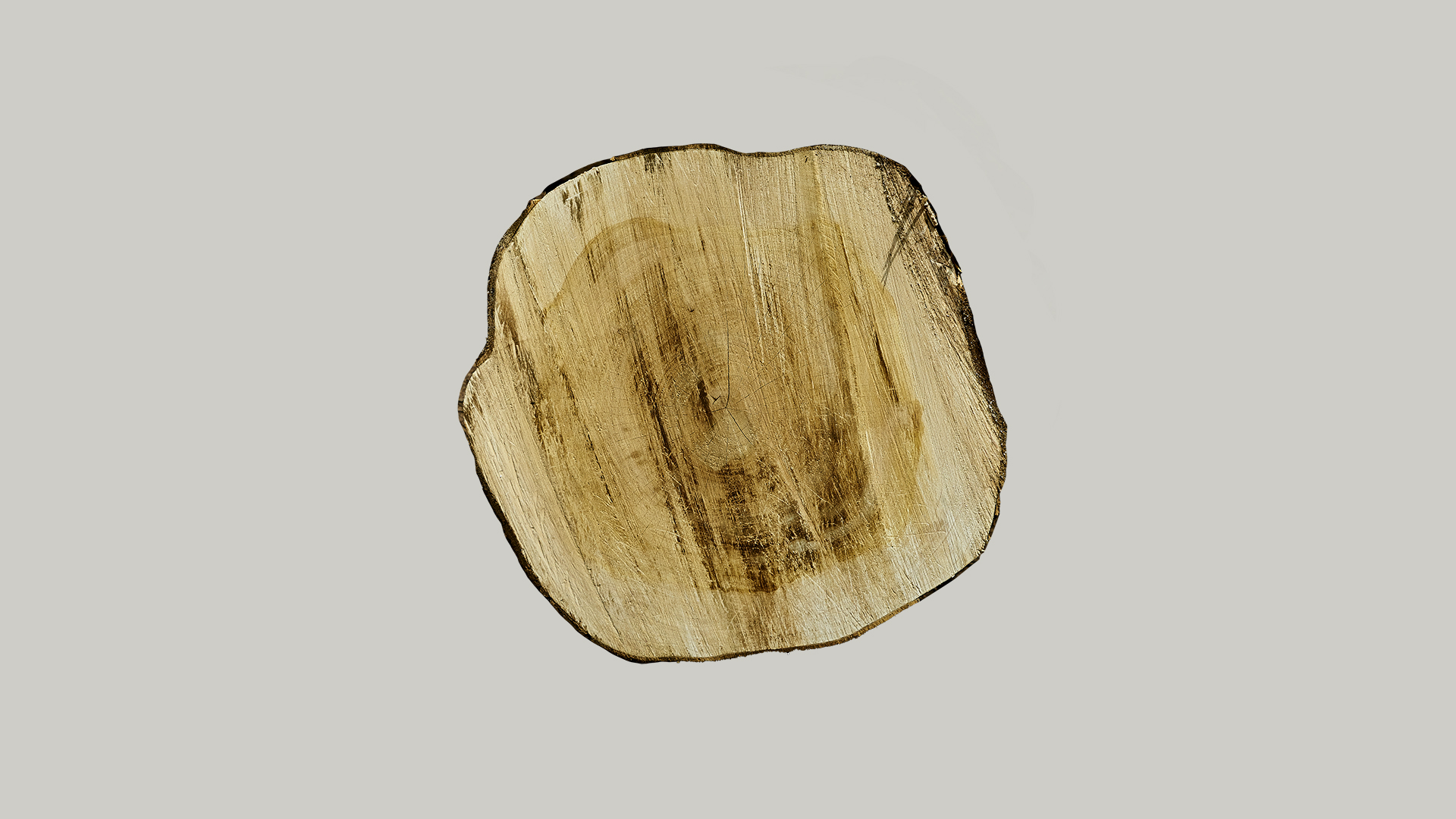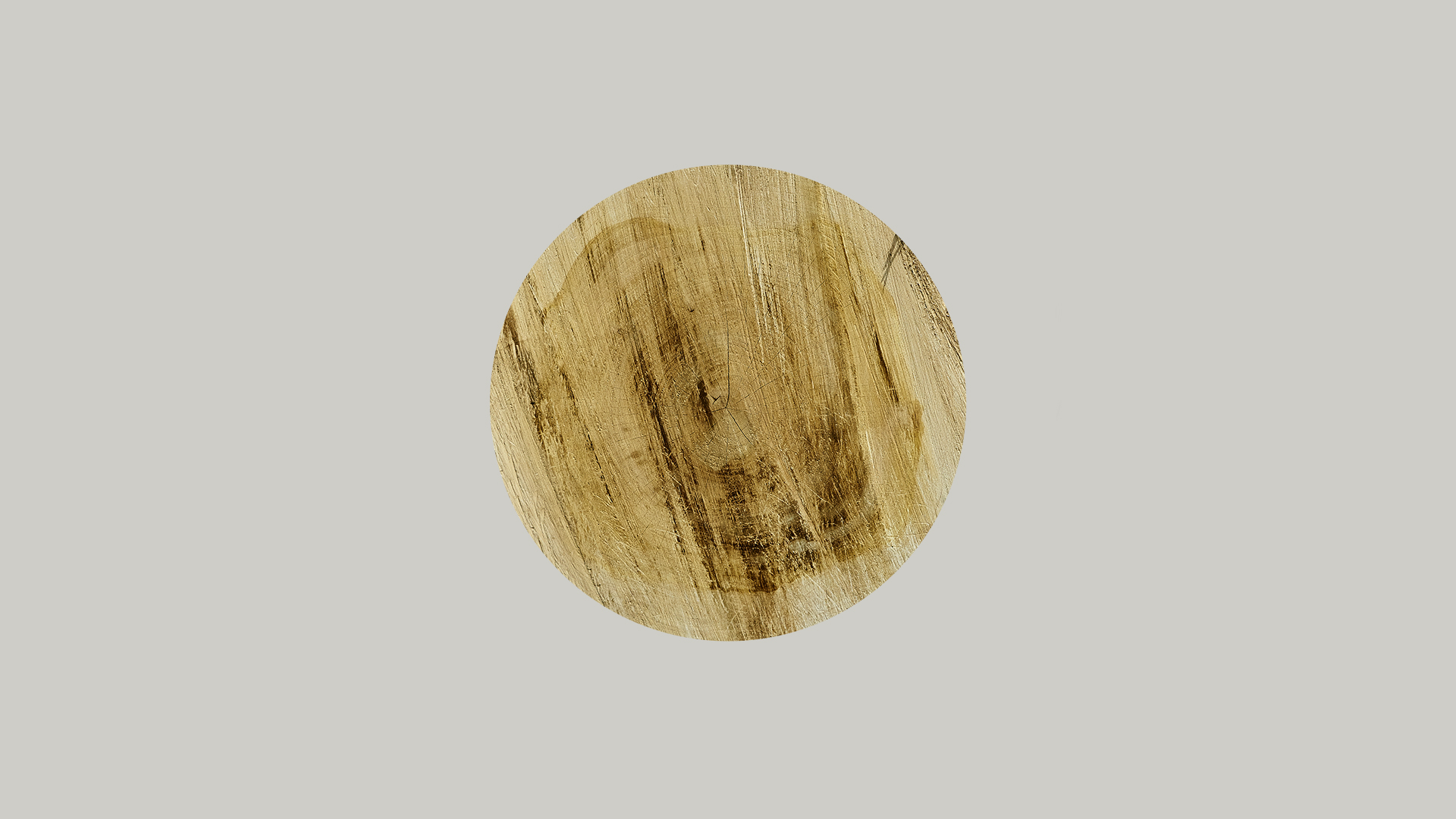 初步处理好木料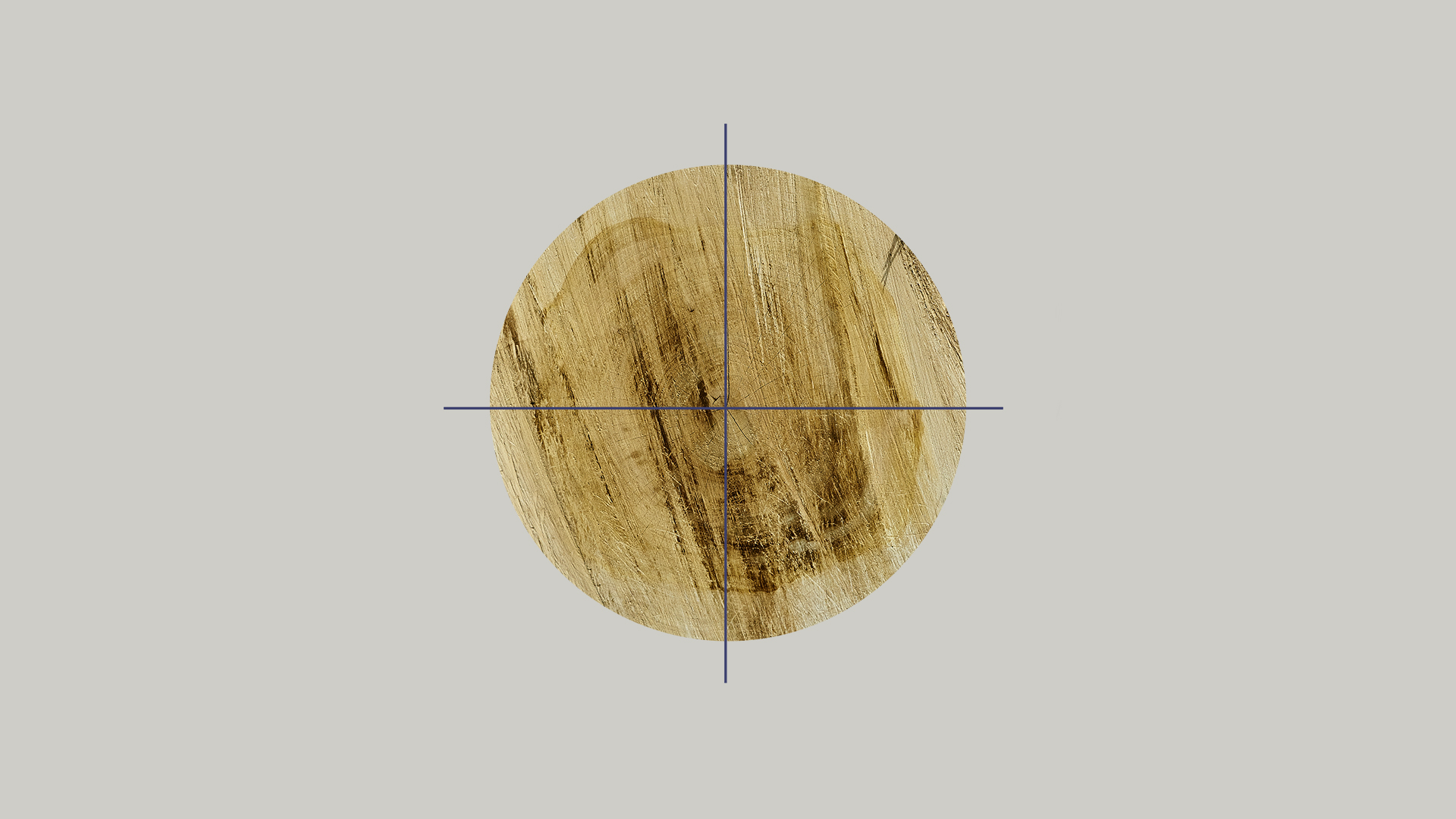 垂直于年轮截面将其劈解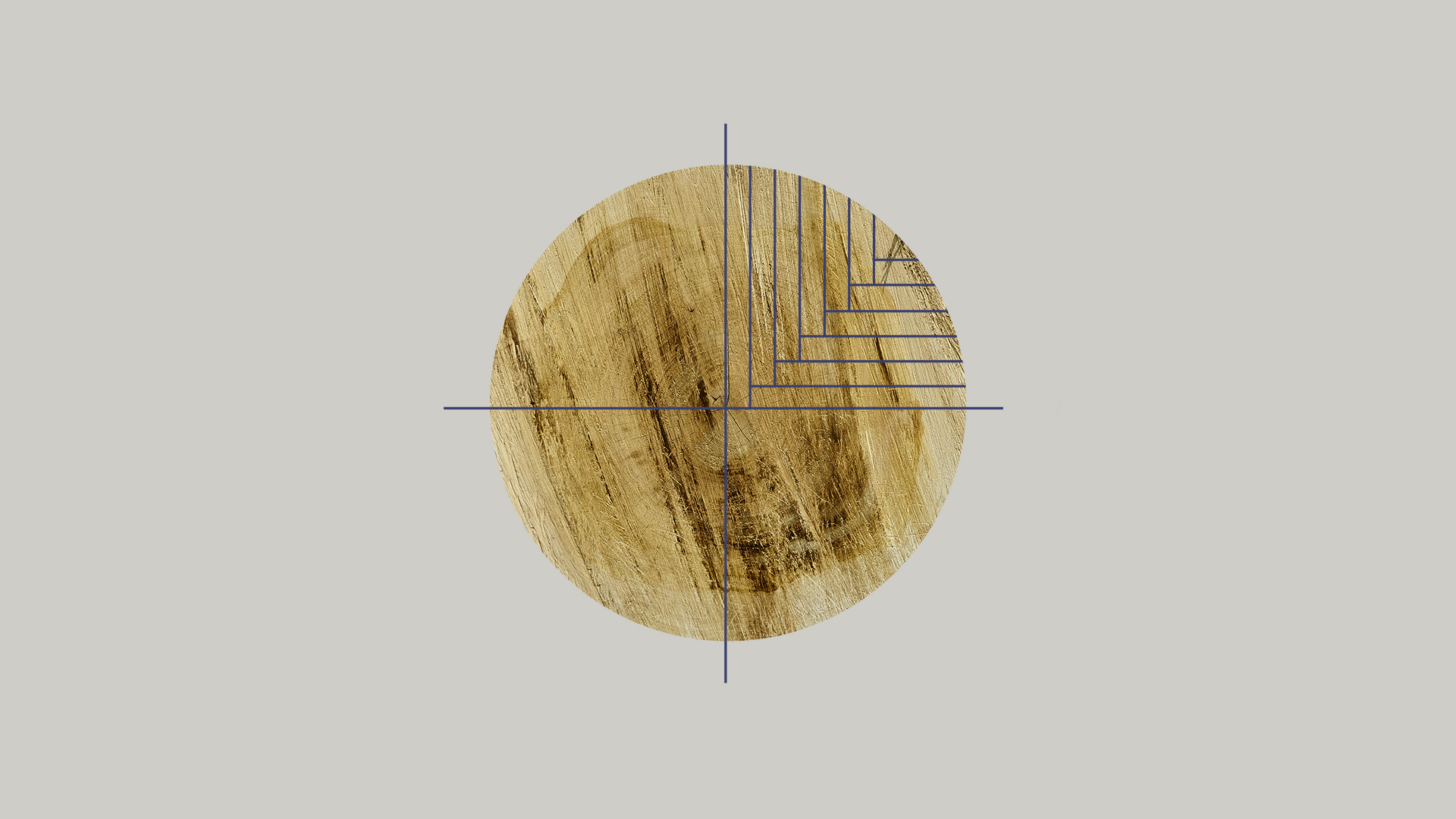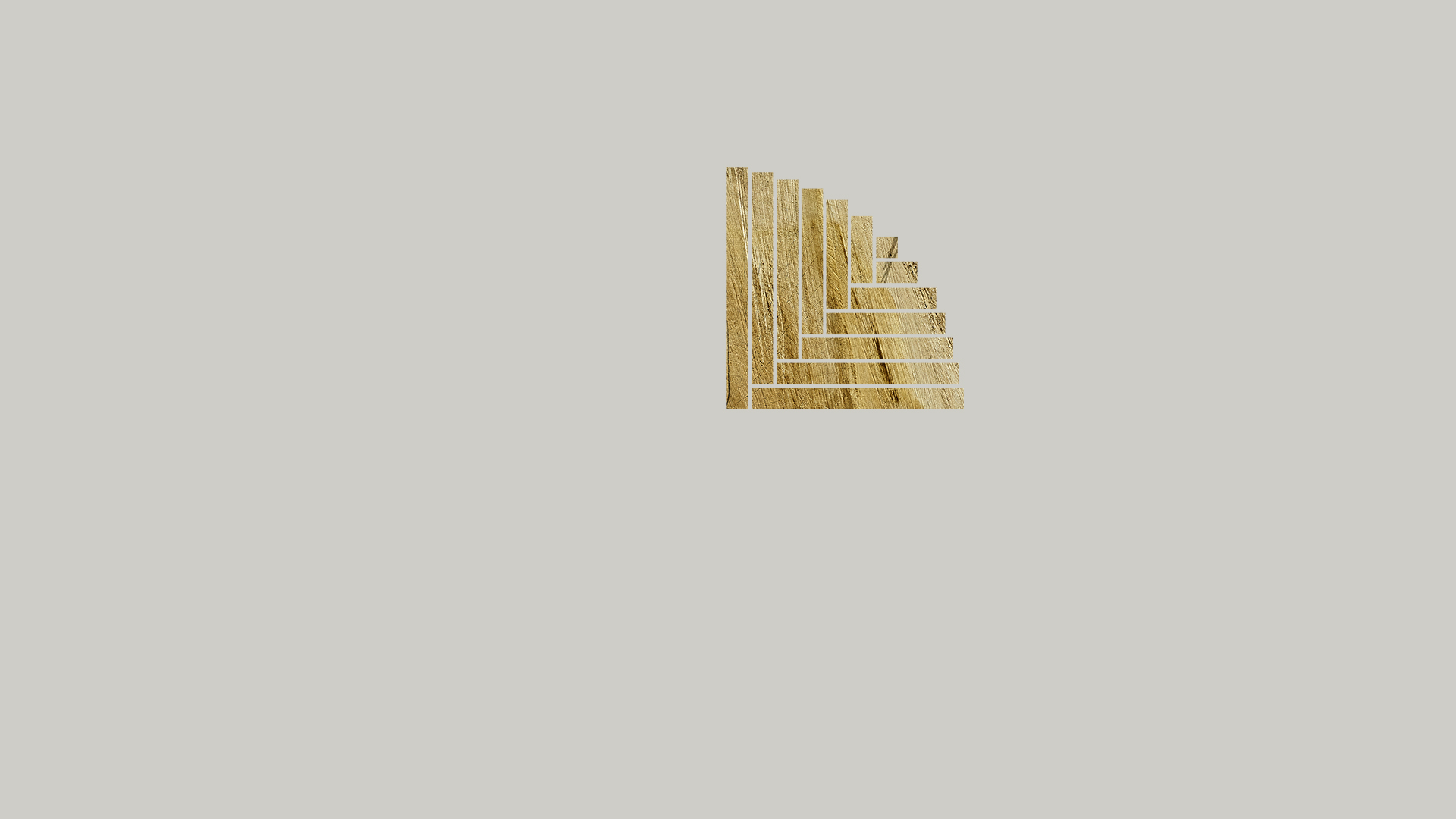 顺着径切纹劈撕成板
当地有"强教的人不成才,削出来的瓦板不防雨"的说法,如果使用工业的方法处理木头,将木导管锯断或砍断,制作出的瓦板就会在下雨时漏水。而用径切、劈撕这种传统的木材处理方式,则顺应了木头的自然属性,将木头合理"解读"后进行分解,是机器不可替代的。
There is a local saying that "Those people who are treated tough won't make it, those shingles that are chipped out won't be rainproof". If you use industrial methods to make wooden shingles, sawing the wood conduit, the roof will leak when it rains. The traditional way of making wood by cutting and tearing is to reasonably "analyse" the wood and then decompose it, respecting the natural properties of wood, which cannot be replaced by machines.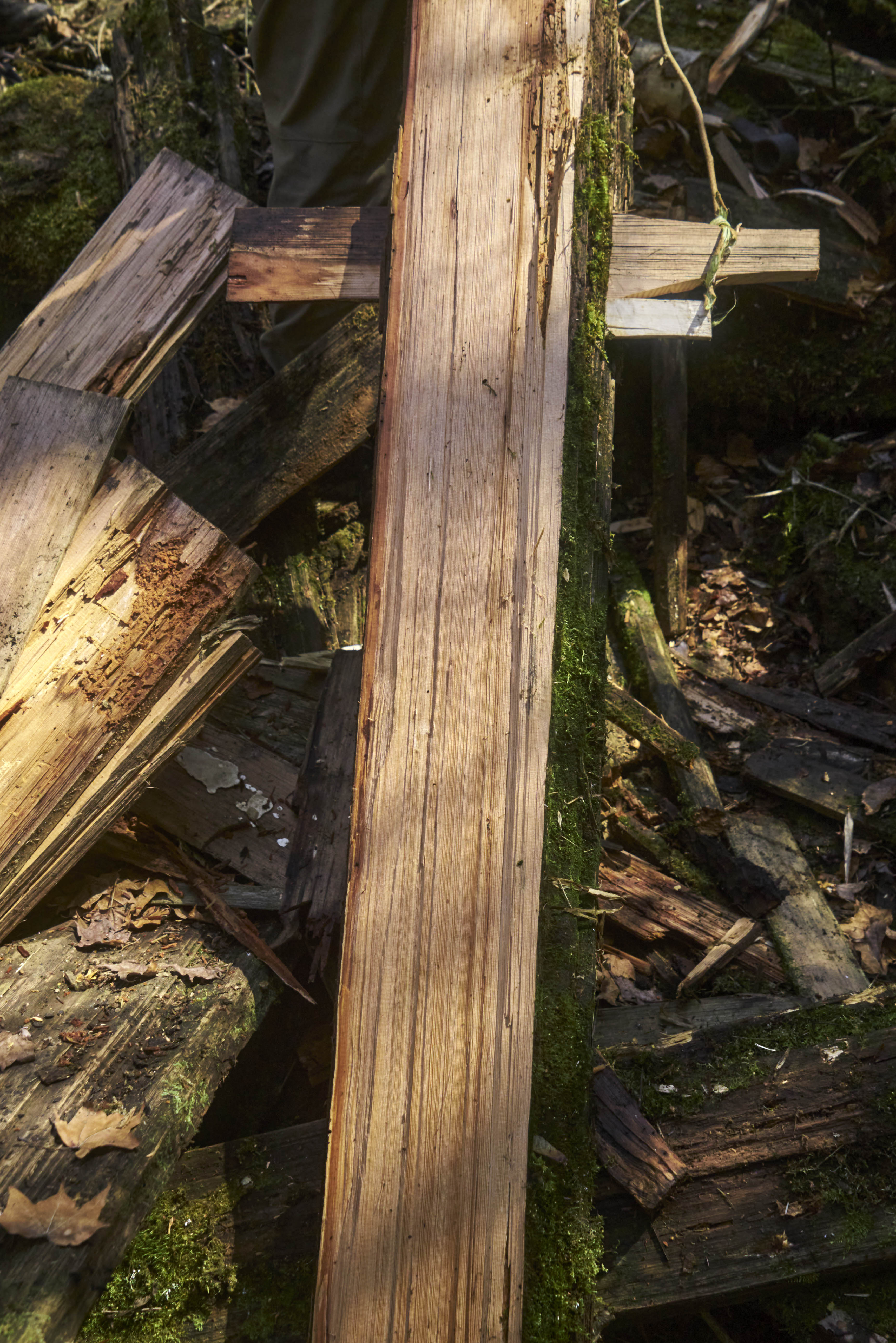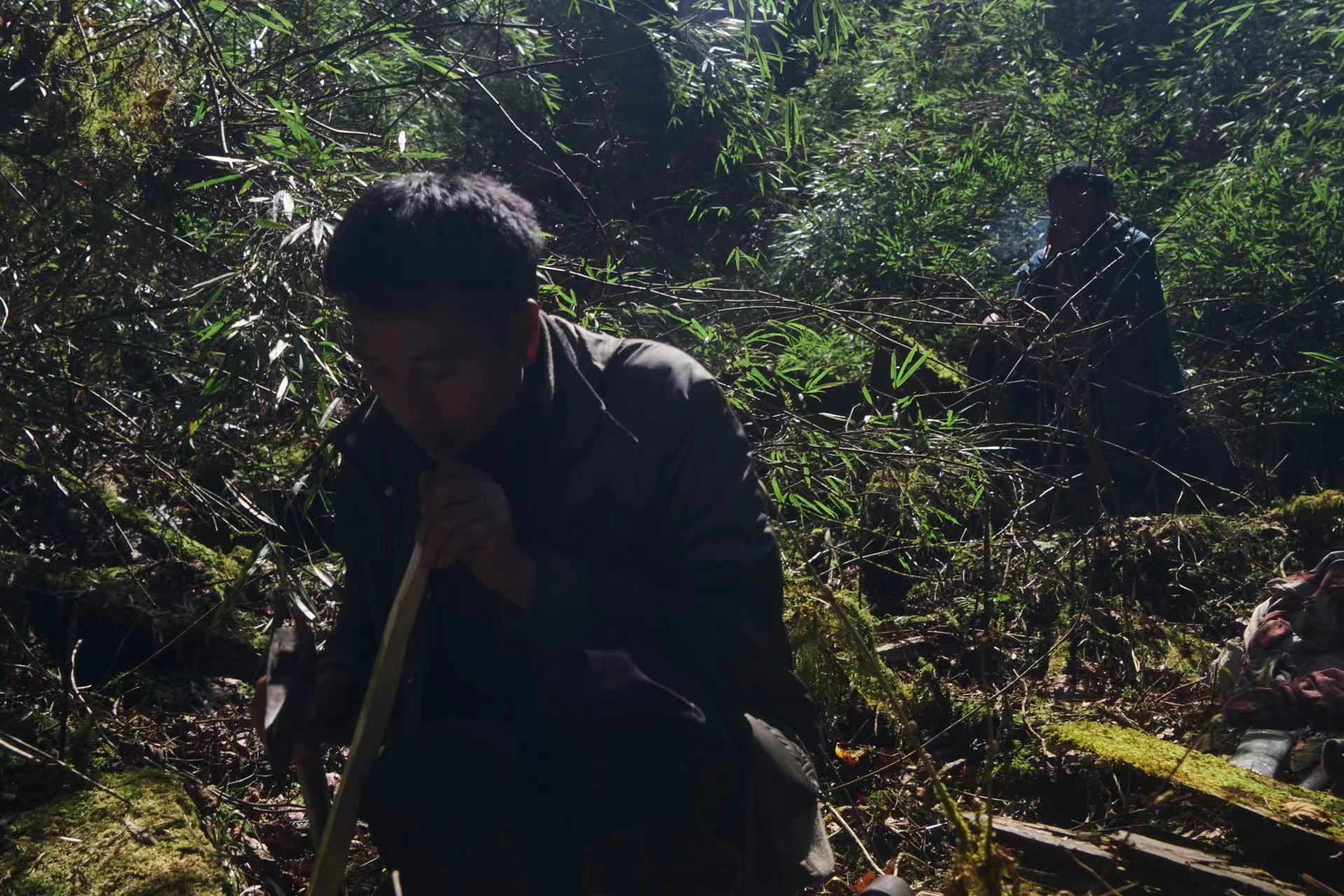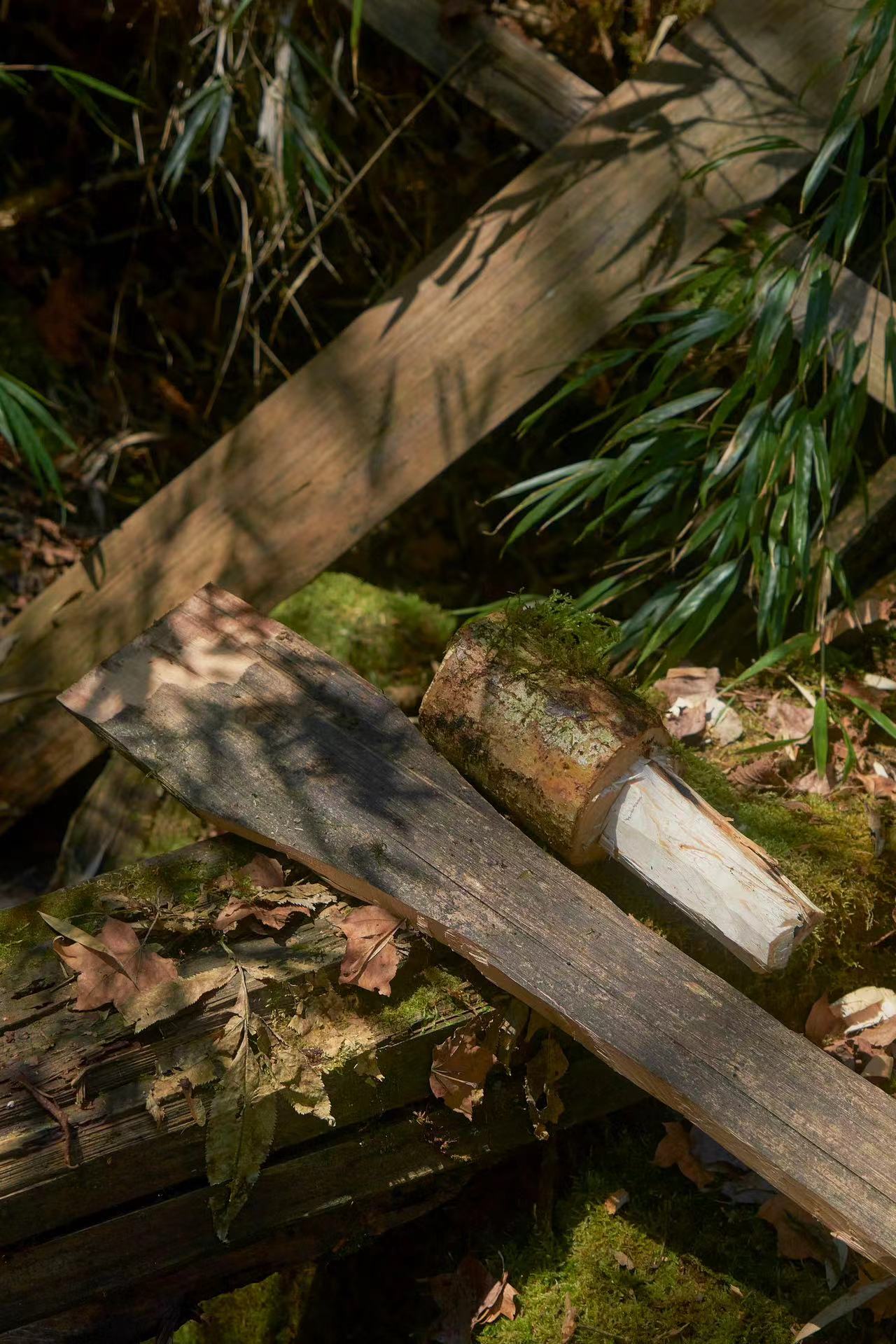 用劈、撕工艺解木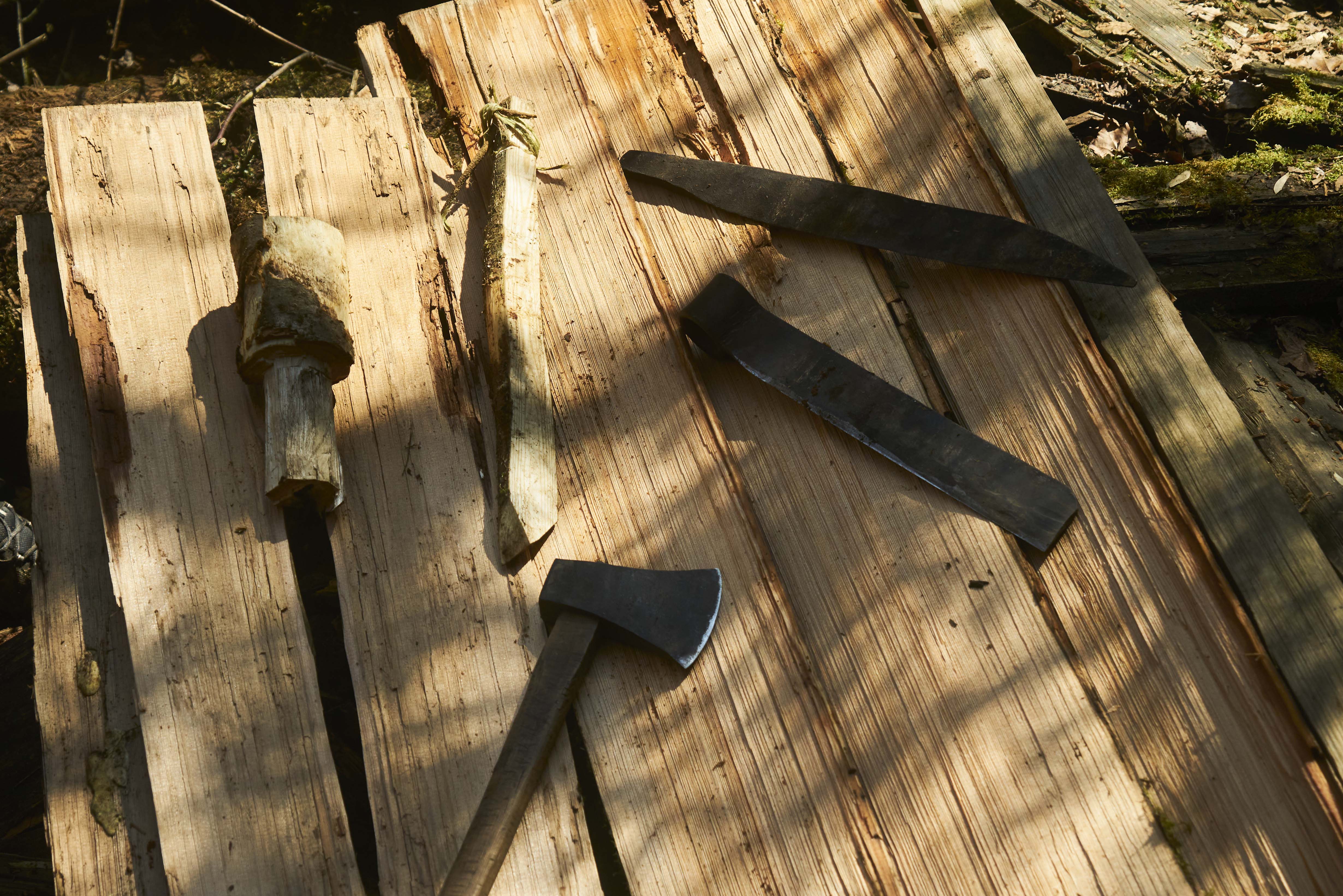 解木所用的传统工具
最后,新铺设的瓦板一般是较浅的原木色,由于人们每日在屋中生火烧饭,升腾起的炊烟会穿透瓦板,起到自然烟熏的效果。这种自然烟熏的方式是中国传统烘干木材的方法之一,与现代蒸汽烘干方式不同,它不会破坏木头里面的木质素,同时带走瓦板里多余的水分,增强其防腐性和防虫性,让瓦板经历风霜雨雪等天气也不易腐烂。除此之外,当地人每年都会将瓦板进行一次翻面,从而进一步延长它们的使用寿命。
Finally, the newly laid shingles are generally a lighter log color, and as people built fires in the house to cook their meals daily, the rising smoke from the cooking fires would penetrate the shingles and have a smoky effect on them. This kind of smoking is also one of the traditional methods of drying wood. Unlike modern steam drying, smoking does not destroy the lignin in the wood, but also takes away the excess moisture in the shingles, enhancing their anticorrosive and insect-resistant properties, and allowing the shingles to withstand wind, rain and snow. In addition, the local people will turn the shingles once a year to further extend their service life.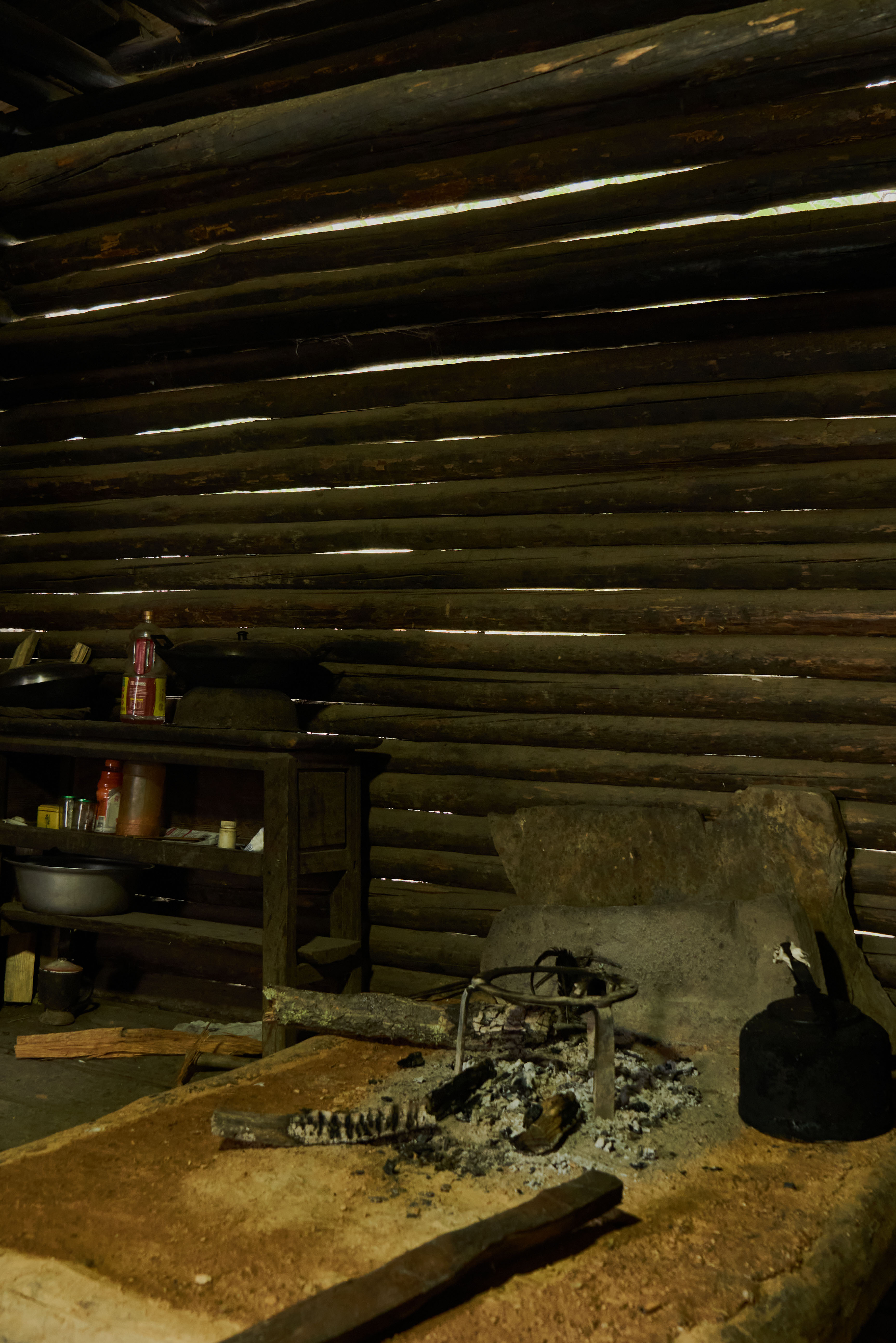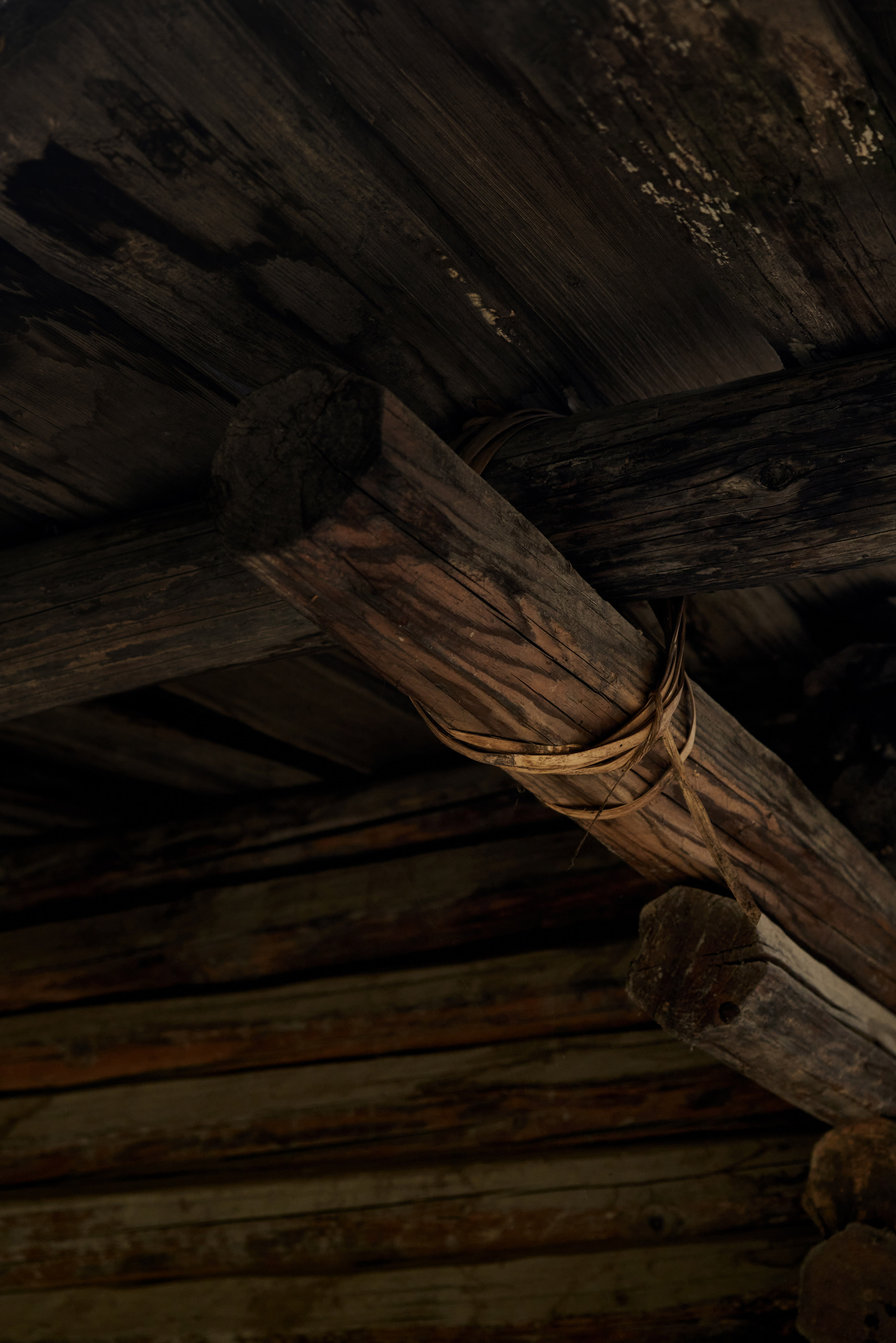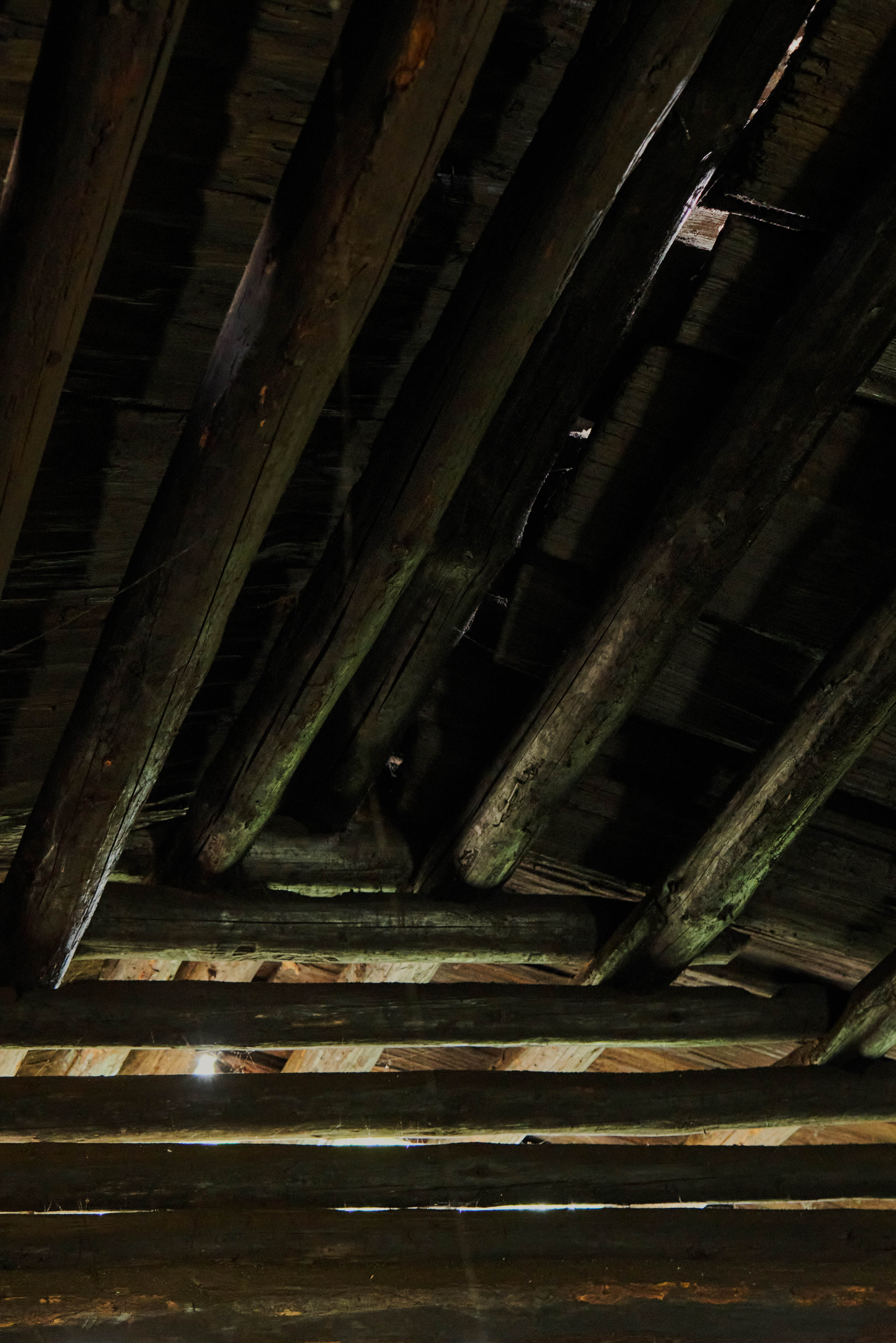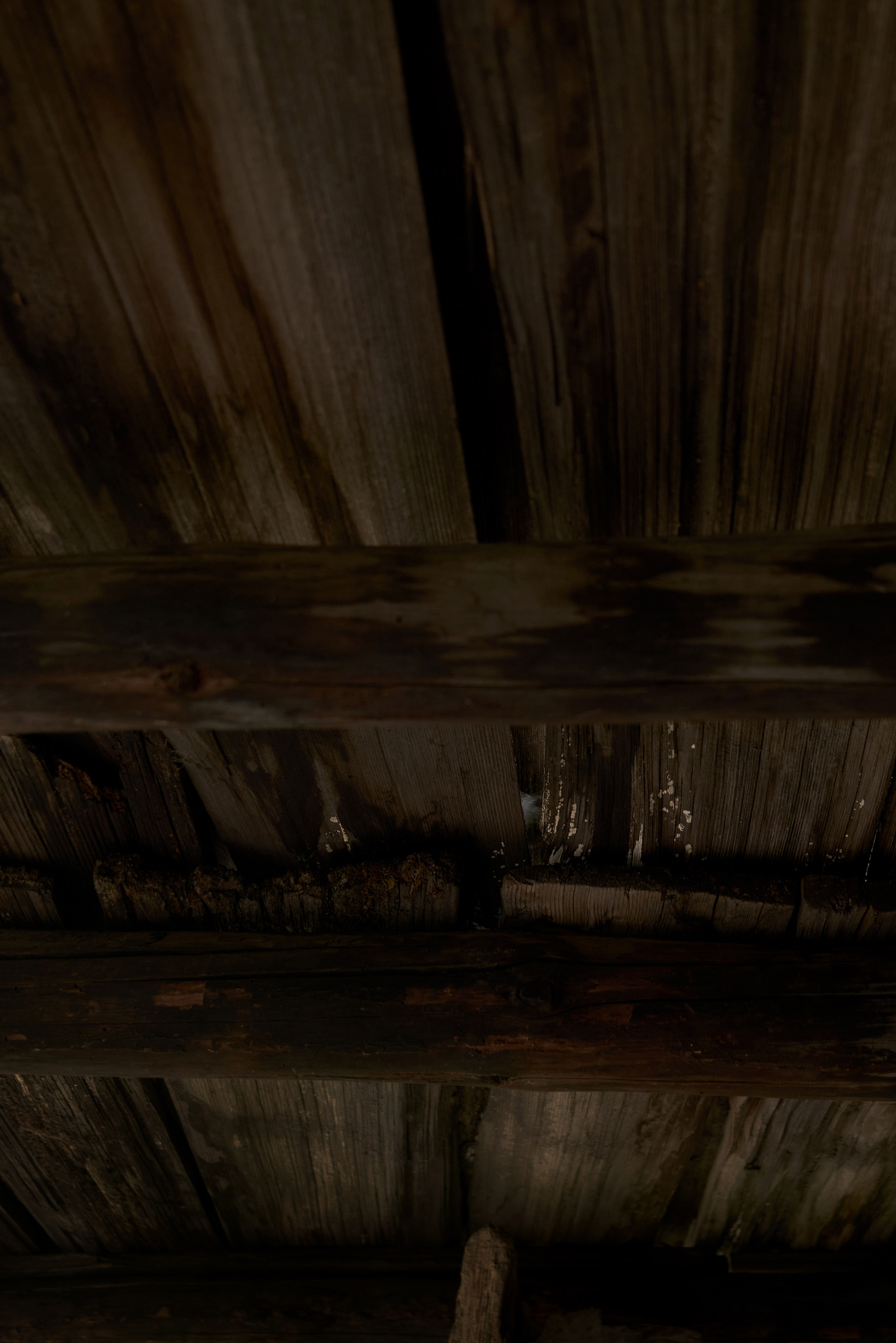 当地的人们在铺木瓦时,并不使用钉子来固定瓦板,而是选择在两排瓦板的重叠衔接处横放木条或上压石块,或者用绳子进行捆绑。这样既保证了瓦板的稳定,也便于日后的翻面。
Instead of using nails to hold the shingles in place, the locals put strips of wood or stones on the overlap of the two rows of shingles, or tie them with a rope. This ensures the stability of the shingles and makes it easier to turn them over later.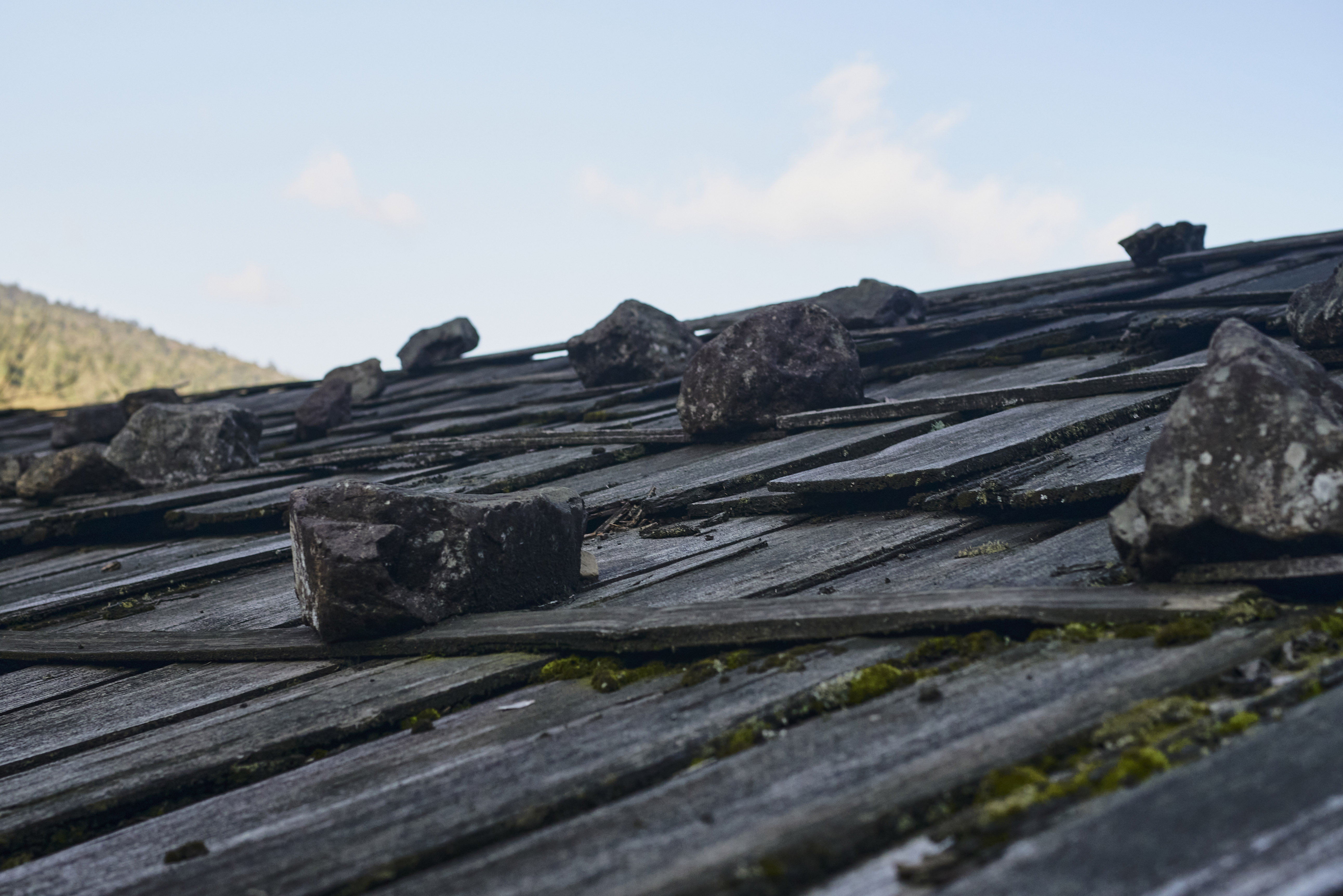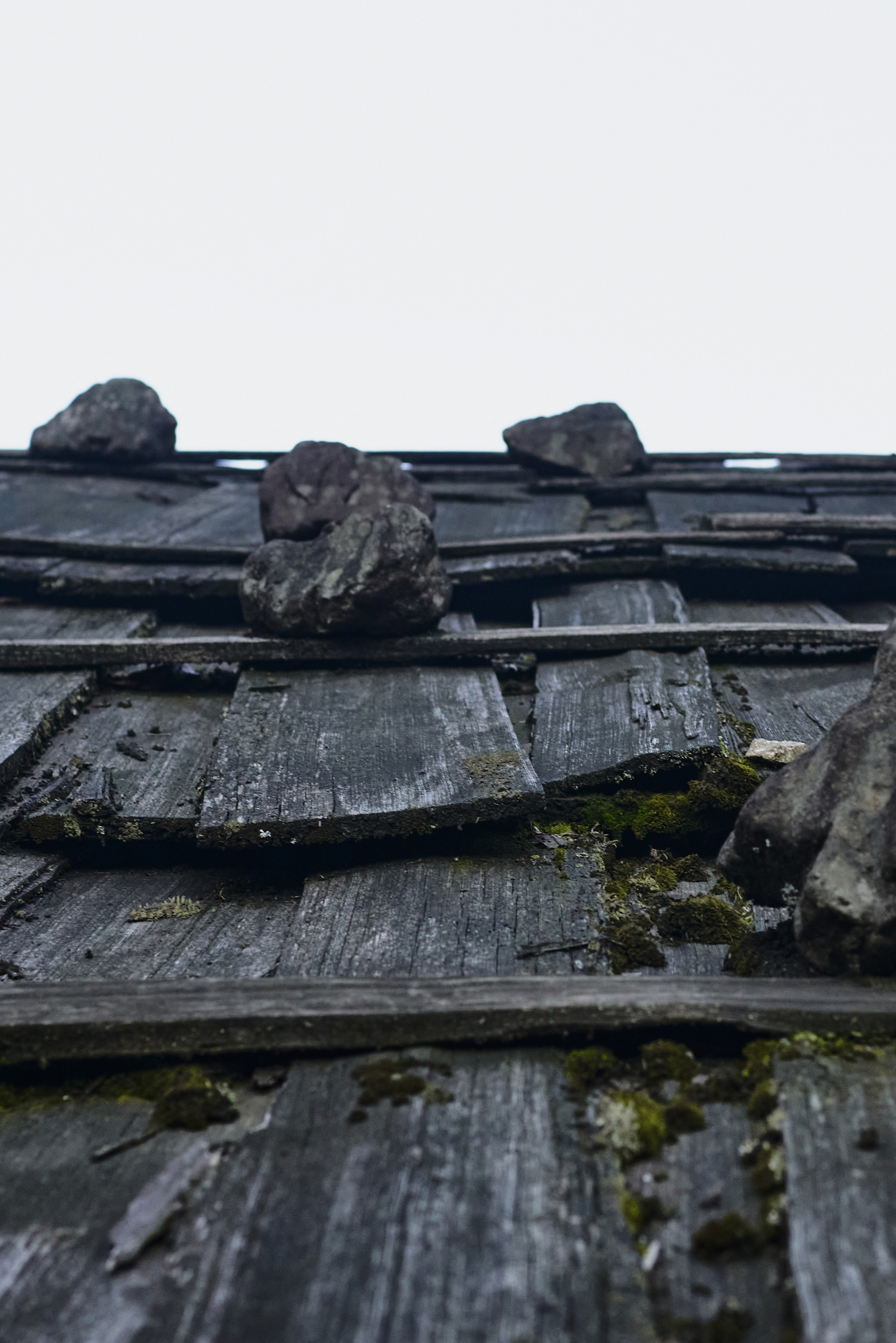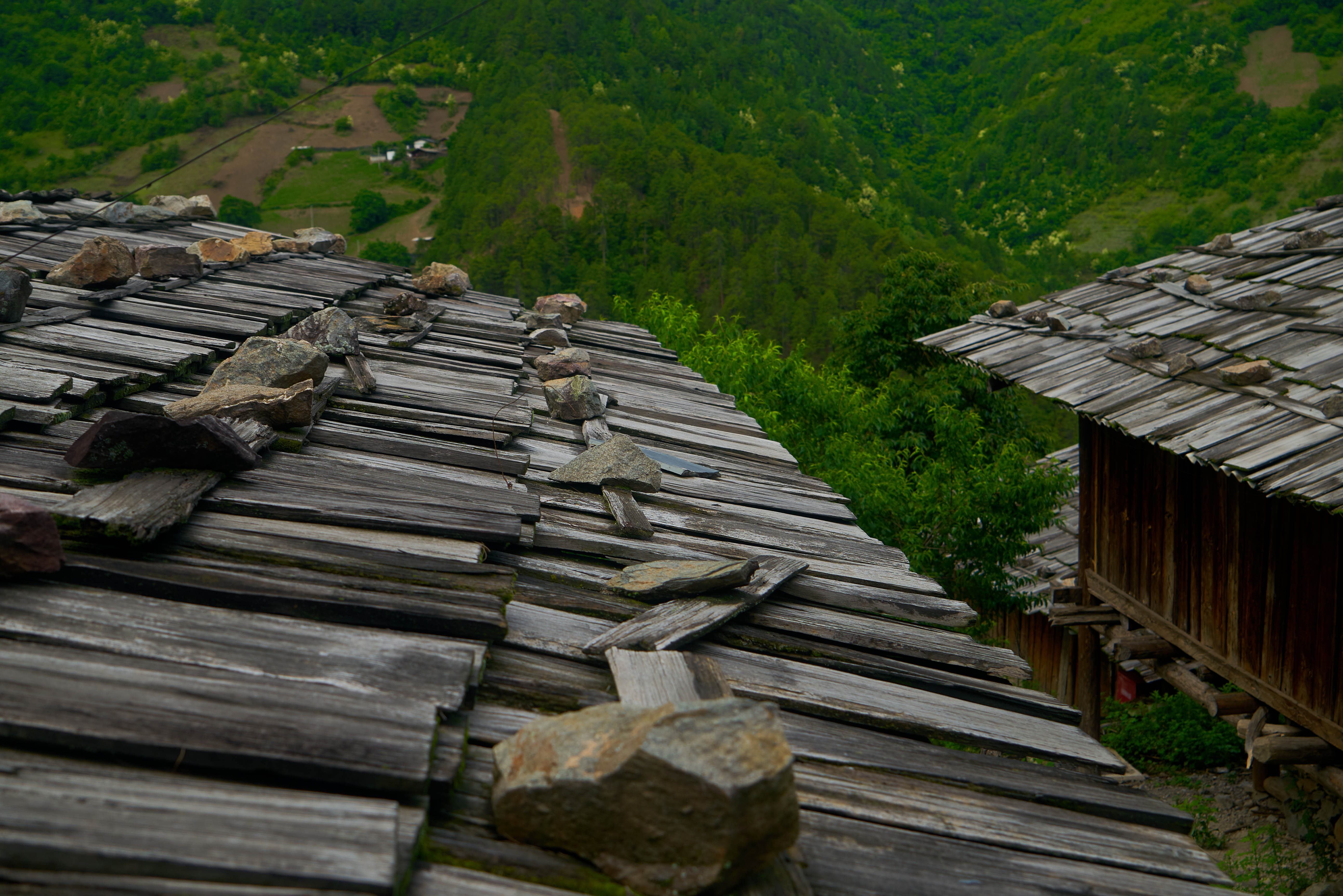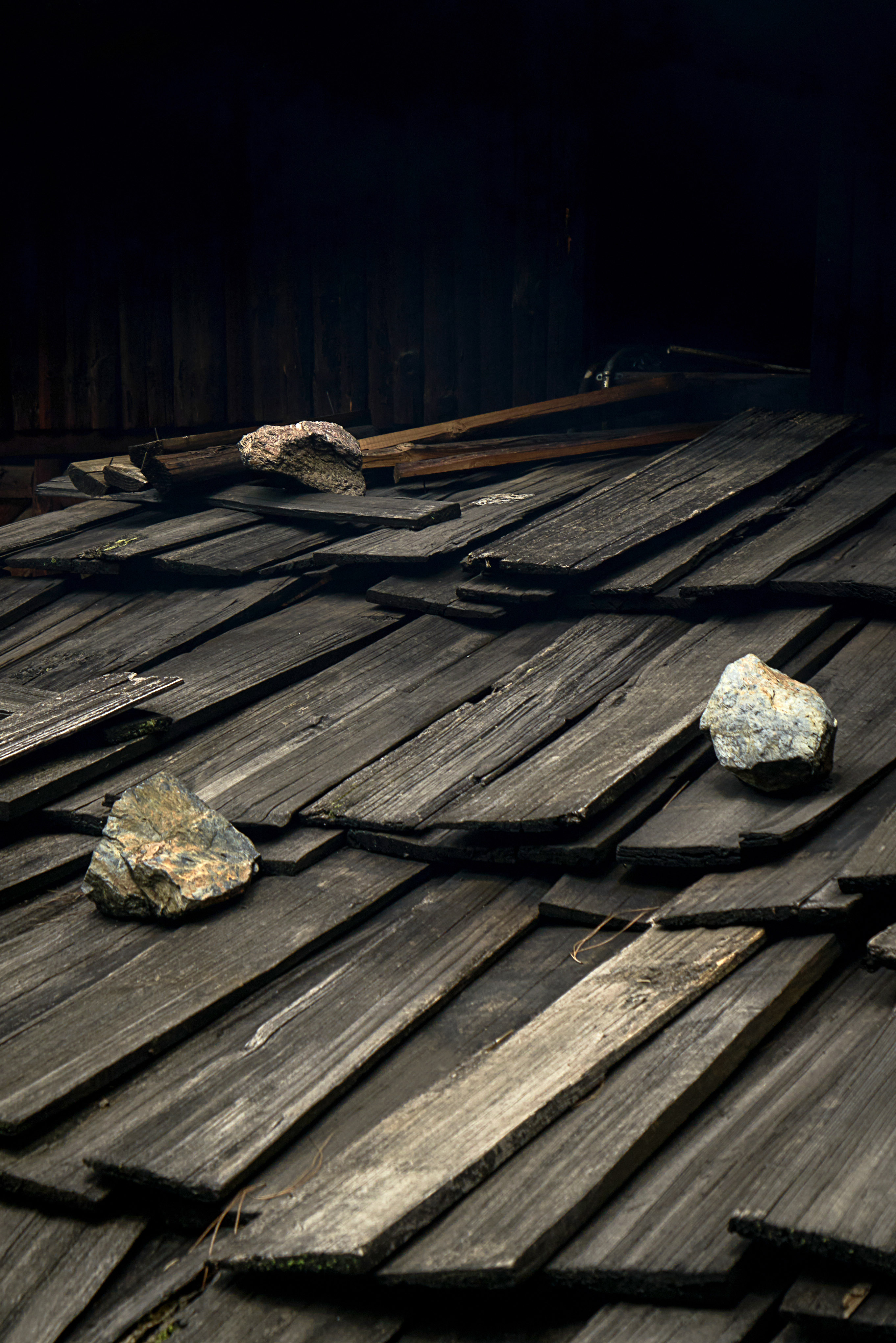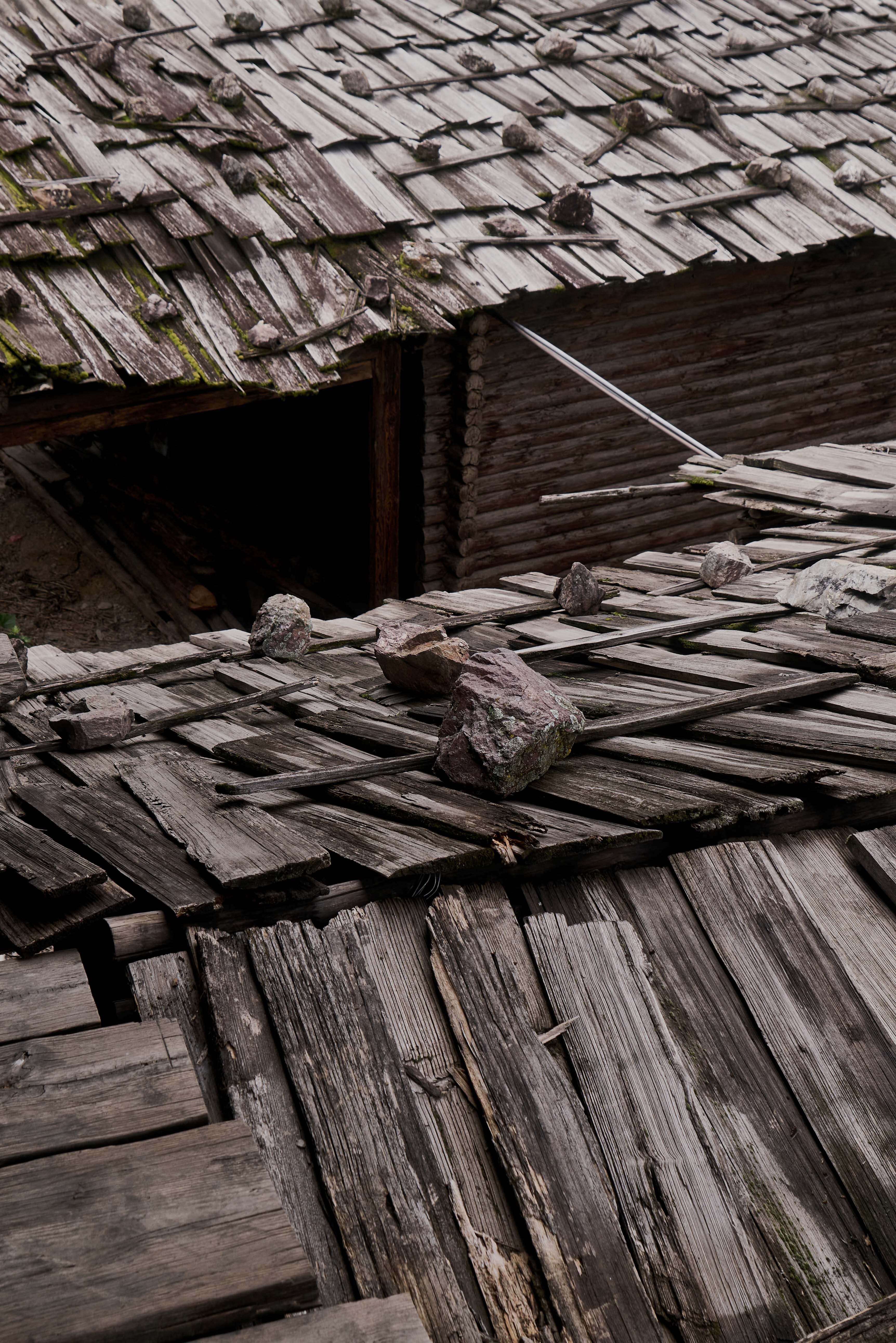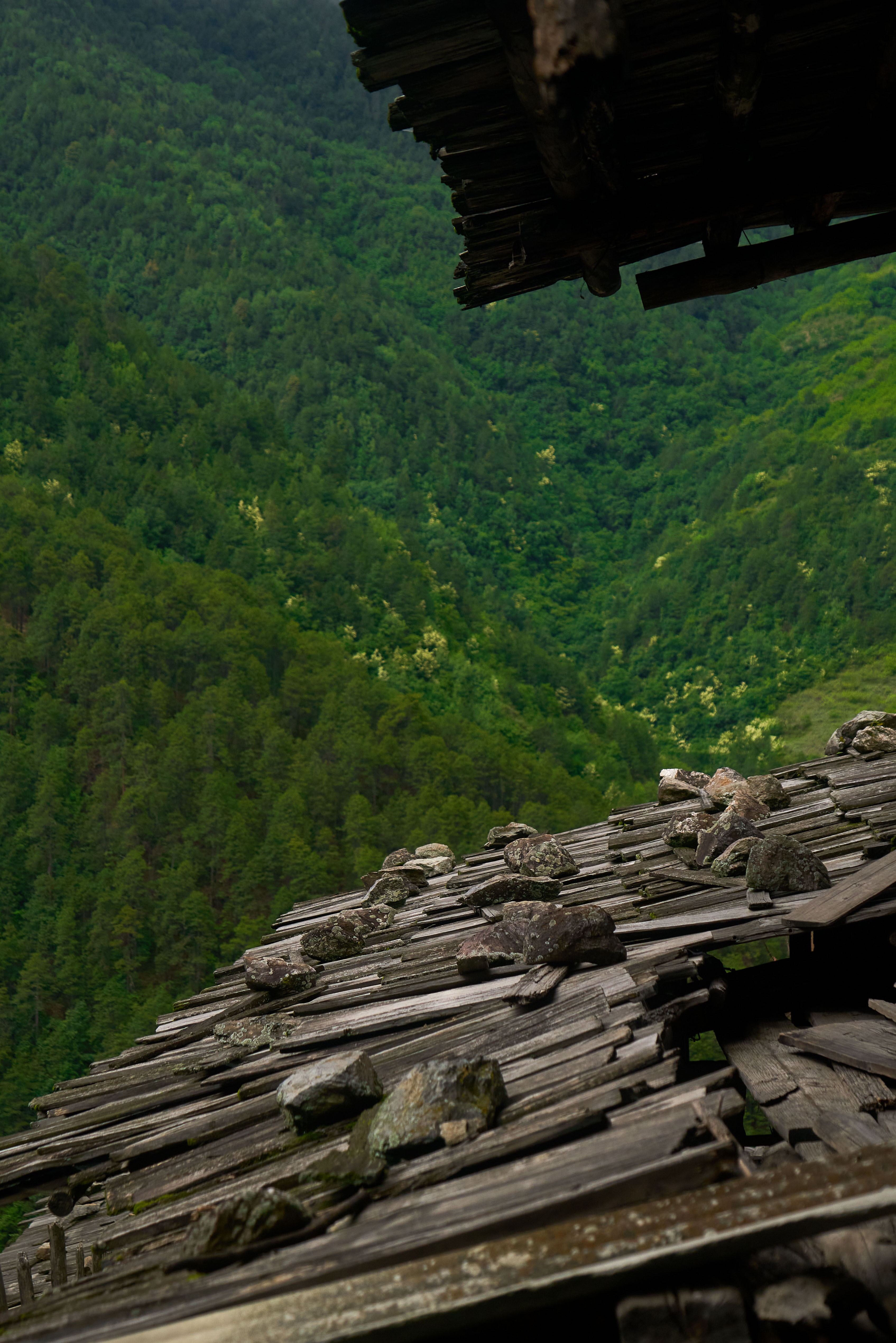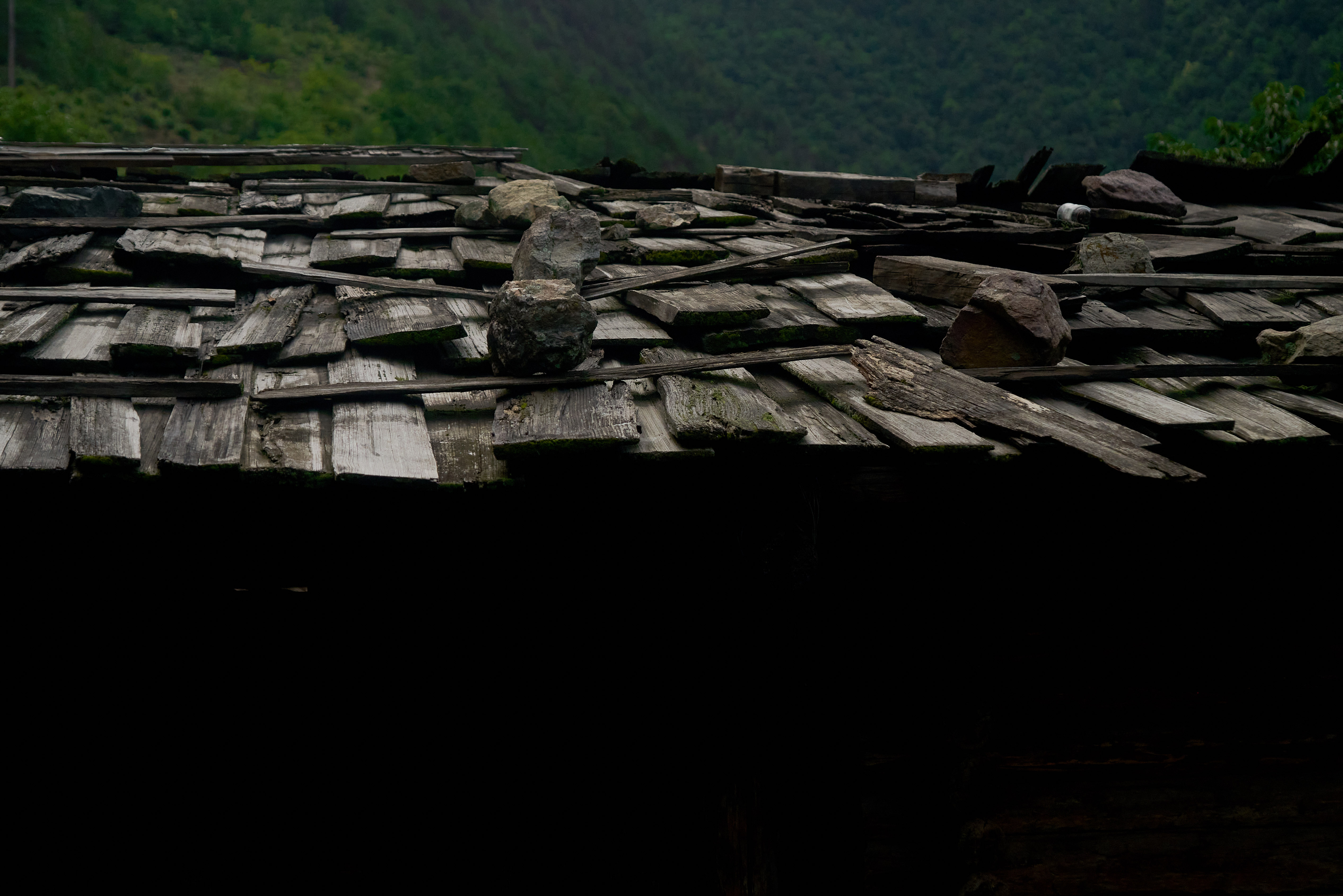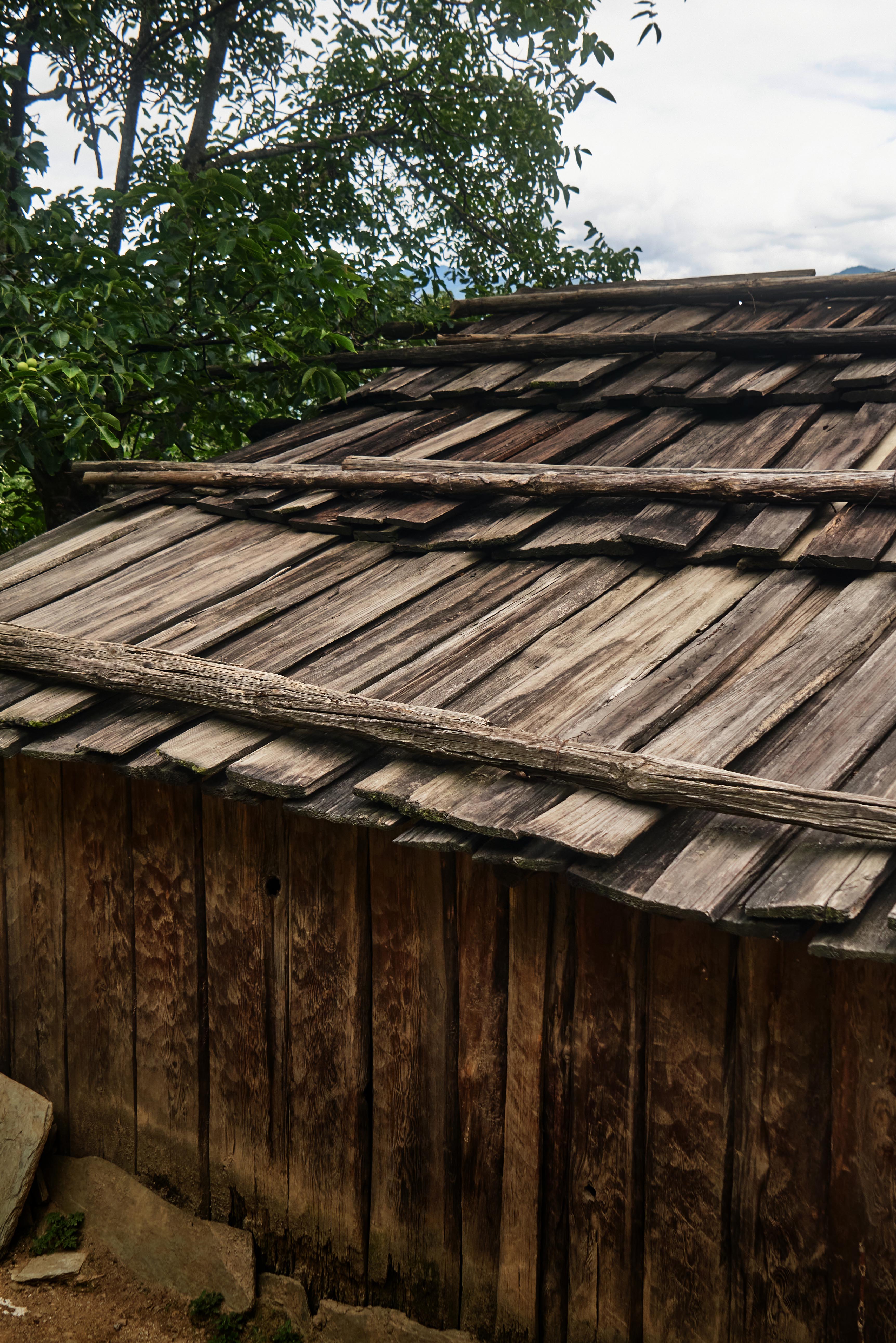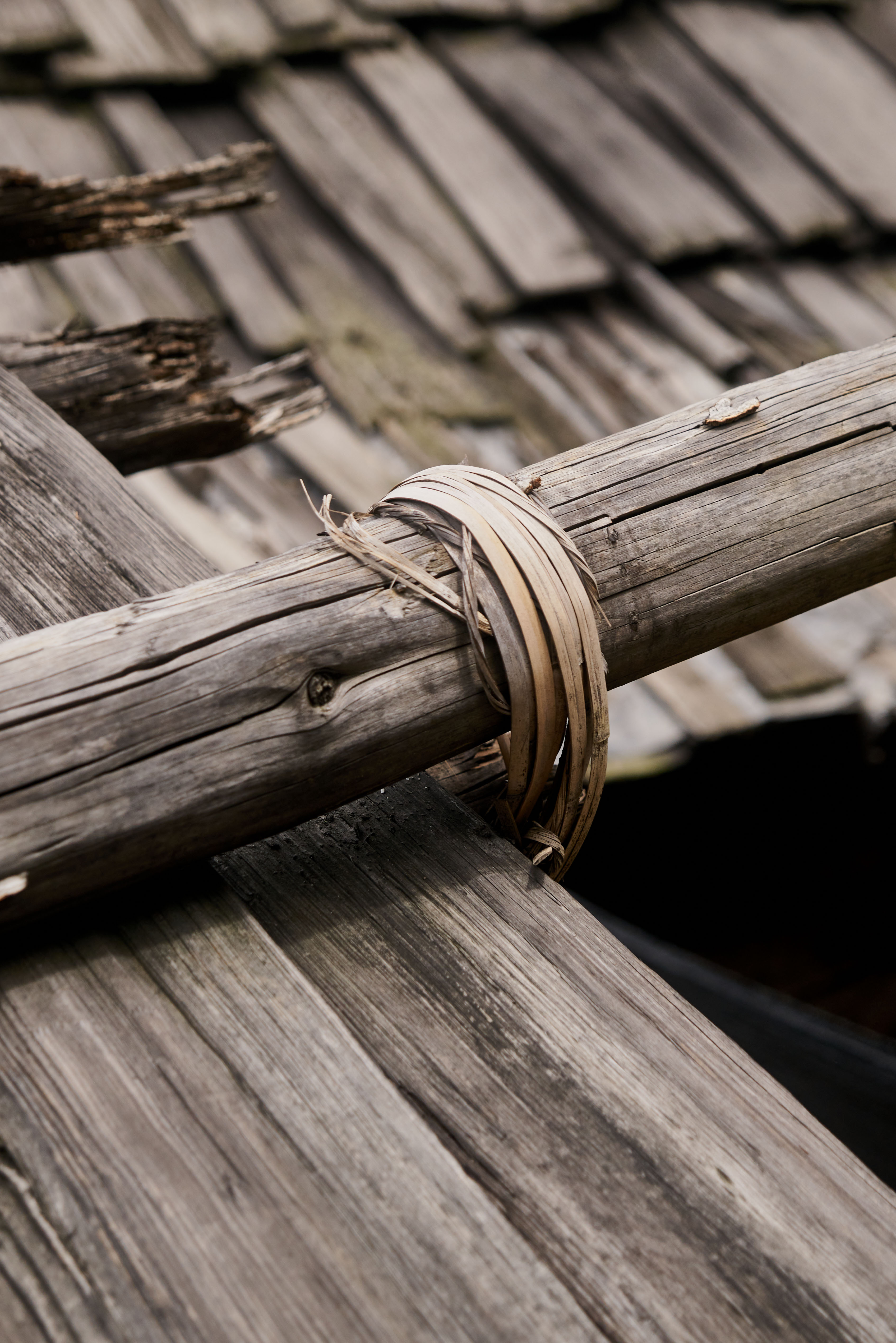 在两边屋面铺满之后,其中一侧近屋脊的瓦板要向另一面延伸悬空出一段来,挡住可能漏进屋脊的雨。每逢雨雪天气,水便可以顺着瓦板的纹路流下,形成自然排水的结构景观。
After shingling both sides of the roof, the shingles on one of the sides near the ridge should stick out more to the other side to block any rainwater that might leak into the ridge.Whenever it rains or snows, water can then flow down the grain of the shingle, creating a natural drainage structure.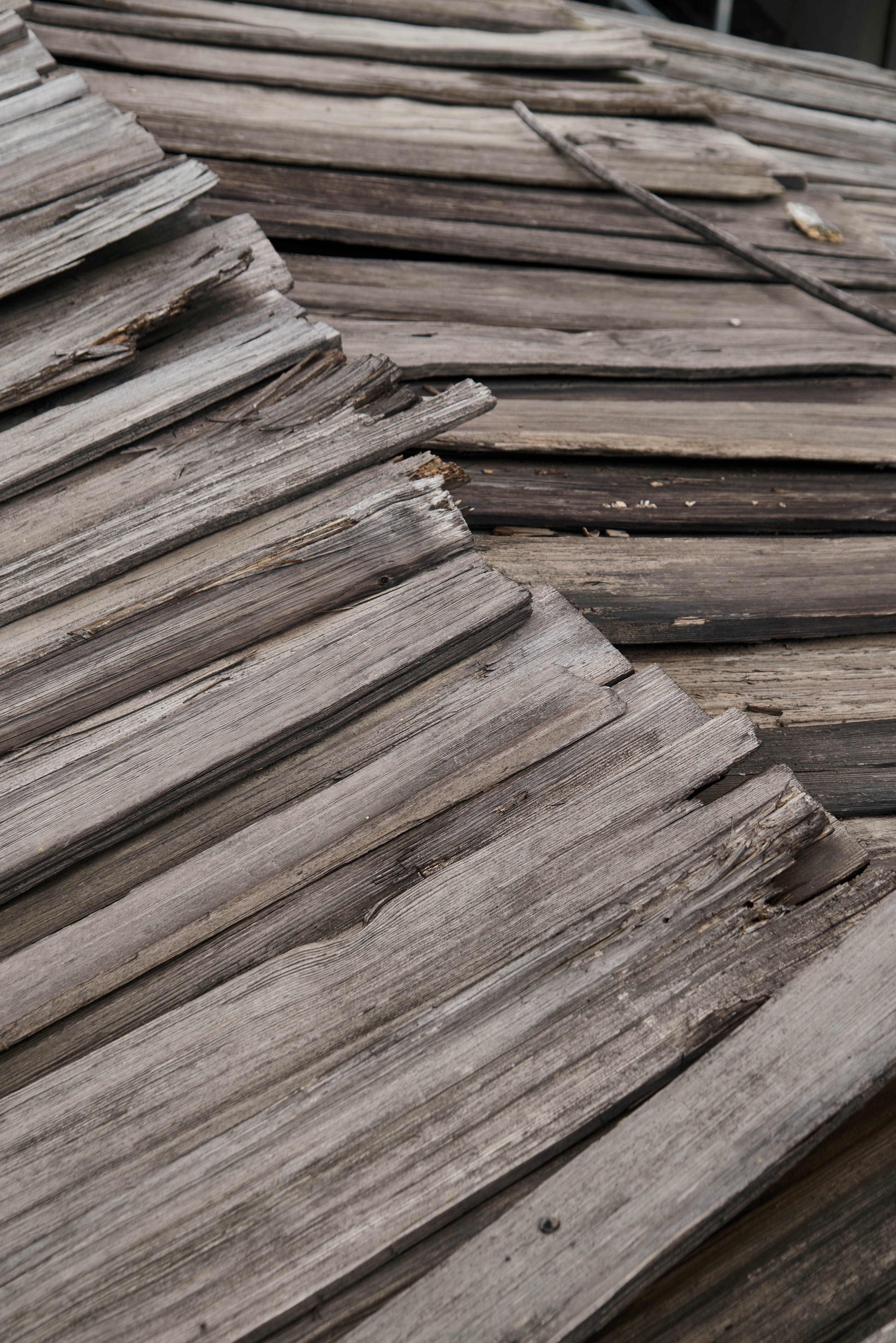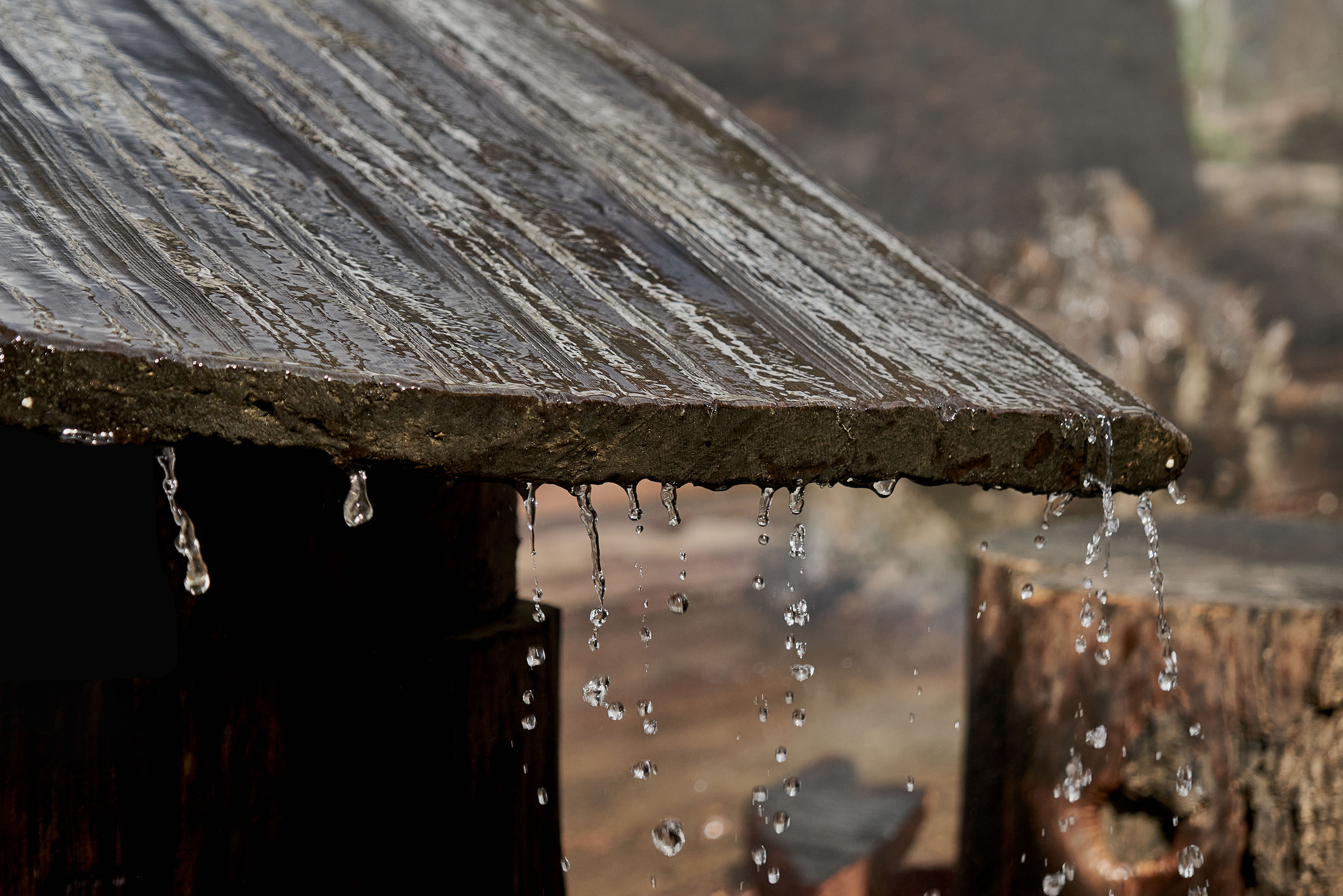 The demise and regeneration of wooden shingles
在云南考察时,偶然发现了一个被核桃树包围的偏远小村落,那里保留着较原始的木楞瓦板房,有的还有一些人们依然在生活着,有的则已荒废。看着这个随时可能消失的村落,我们不禁思考:随着经济发展和社会变化,西南地区现存的许多木楞瓦板房已无法满足当下人们生活的功能需求,面临着倒塌、废弃、消亡的可能,那么这些优质的瓦板又该去向哪儿?
During a study tour in Yunnan, we stumbled upon a small remote village surrounded by walnut trees, where the original Waban Houses remained. Some of these houses still have people living in them, while others are deserted. Looking at this village, which could disappear at any time, we couldn't help but think: with economic development and social change, many of the existing Waban Houses in the Southwest China are about to collapse, fall into disuse, or even die out because they are no longer able to satisfy the functional needs of people's lives today, so where should these high-quality wooden shingles go?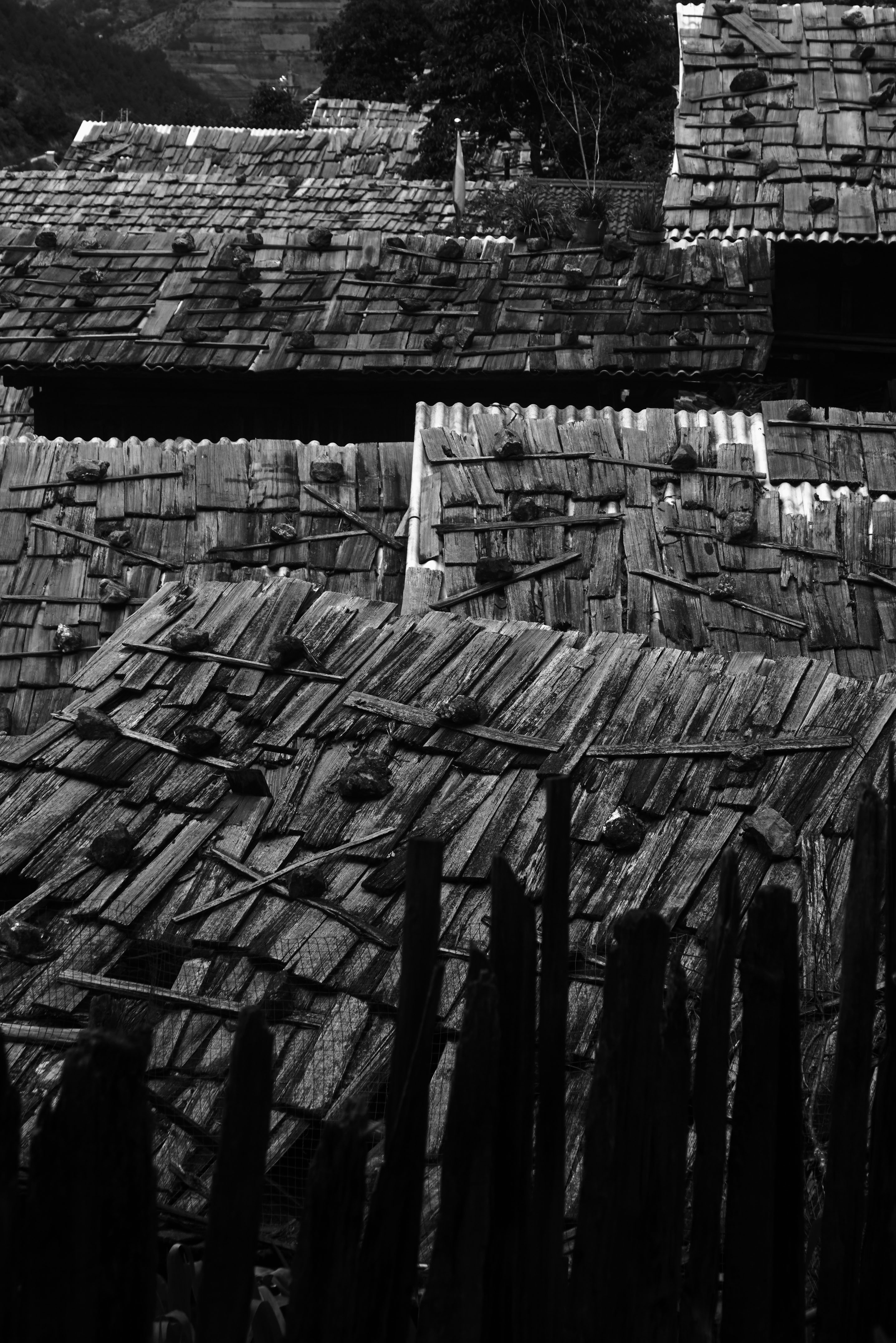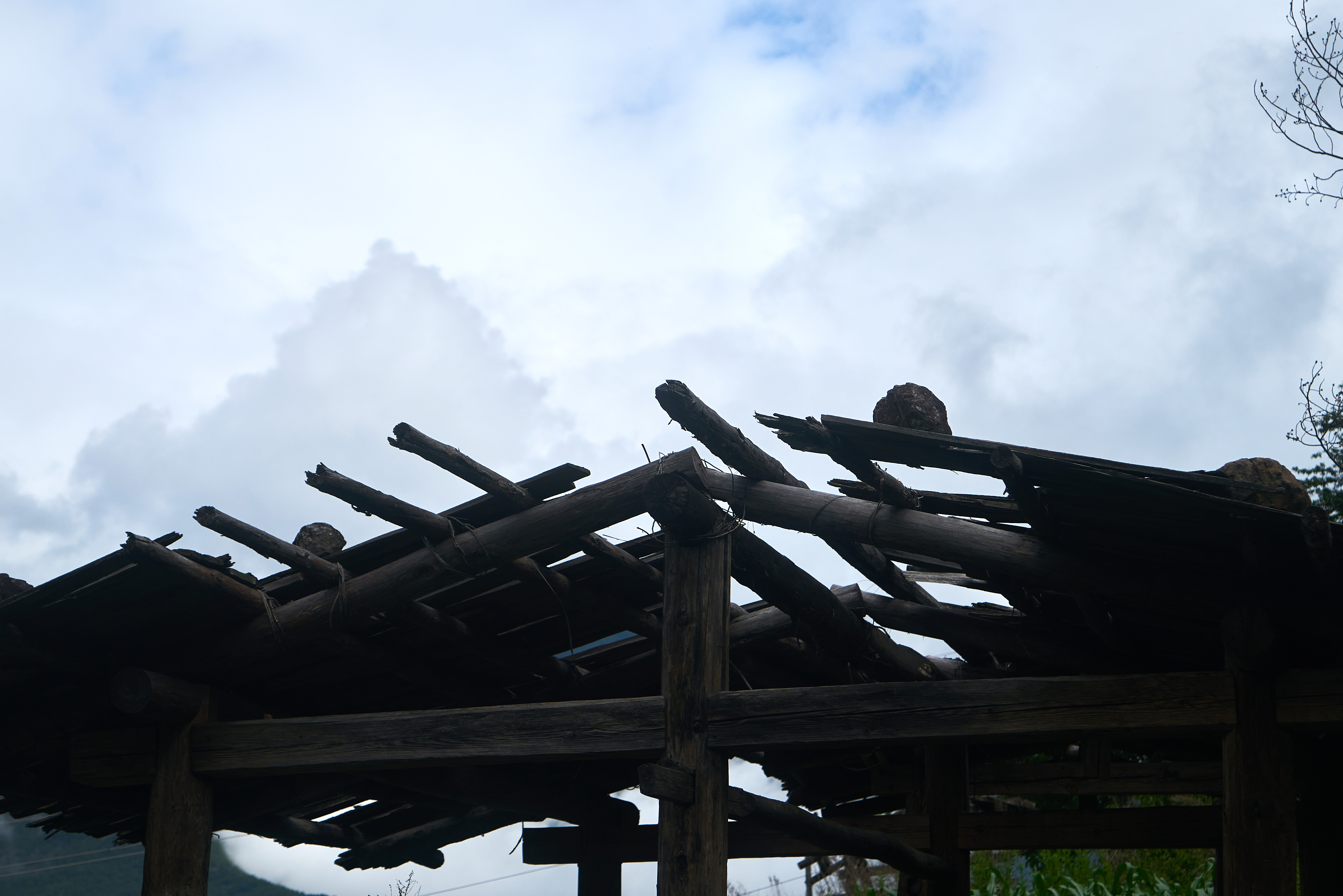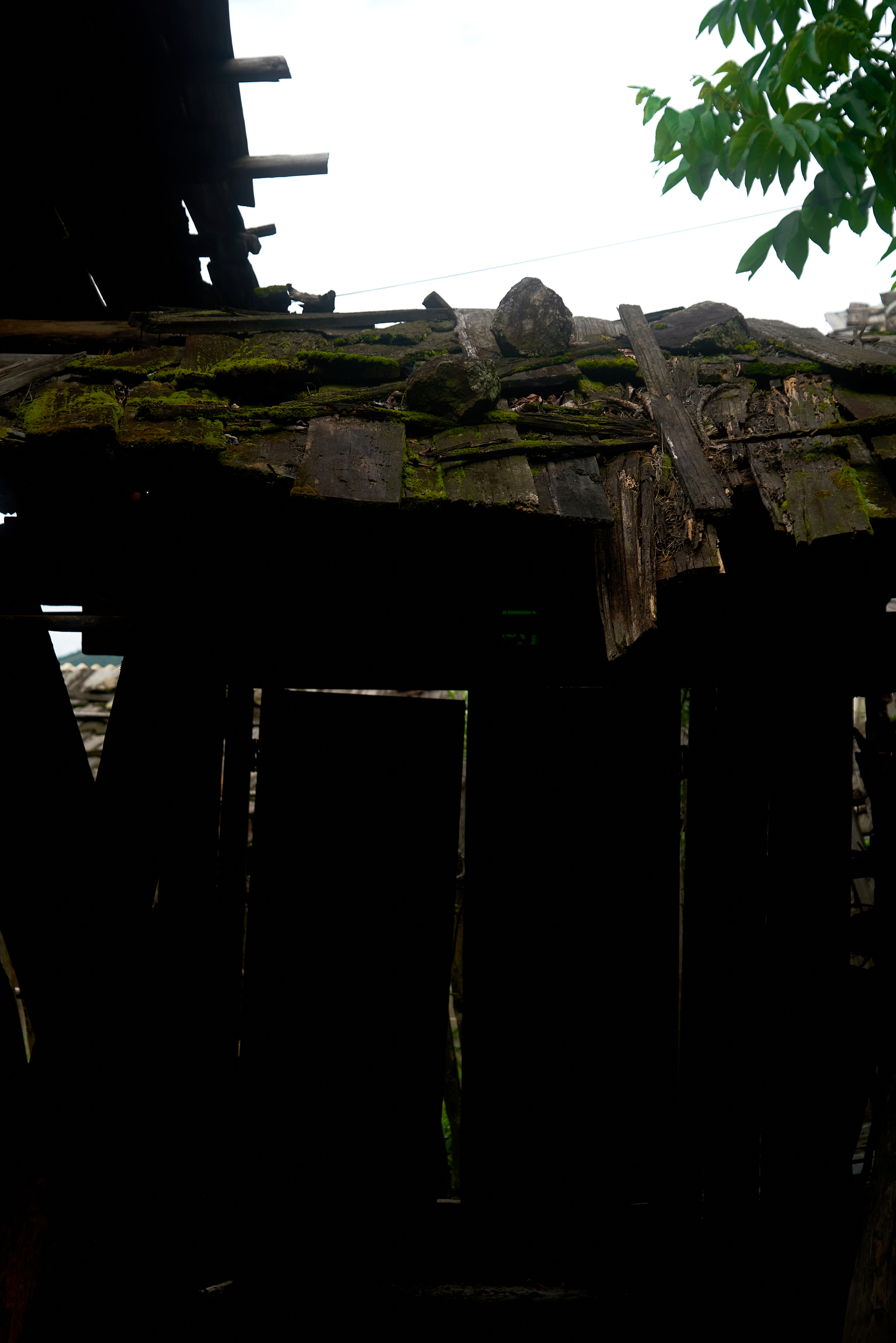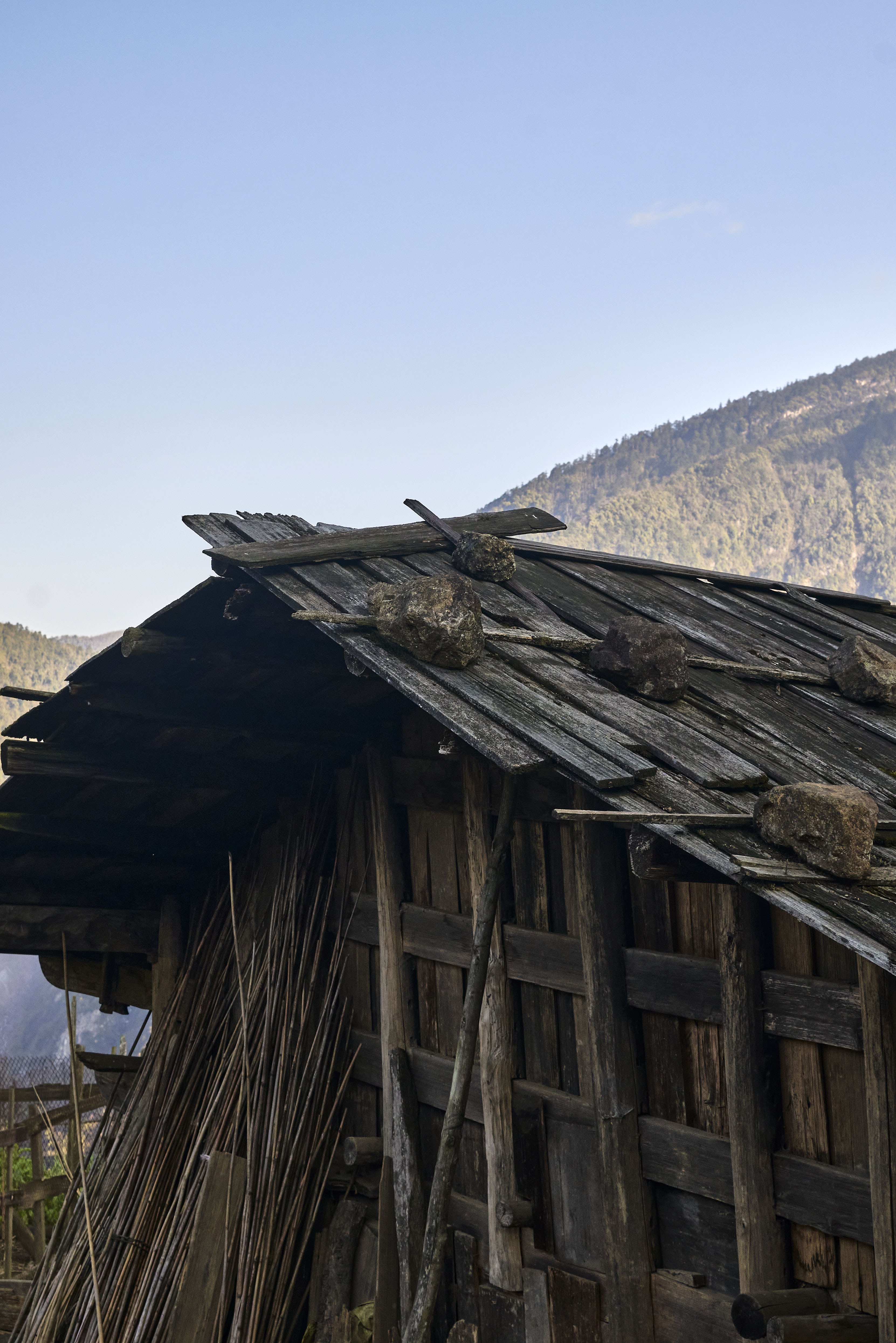 濒临消亡的传统木楞房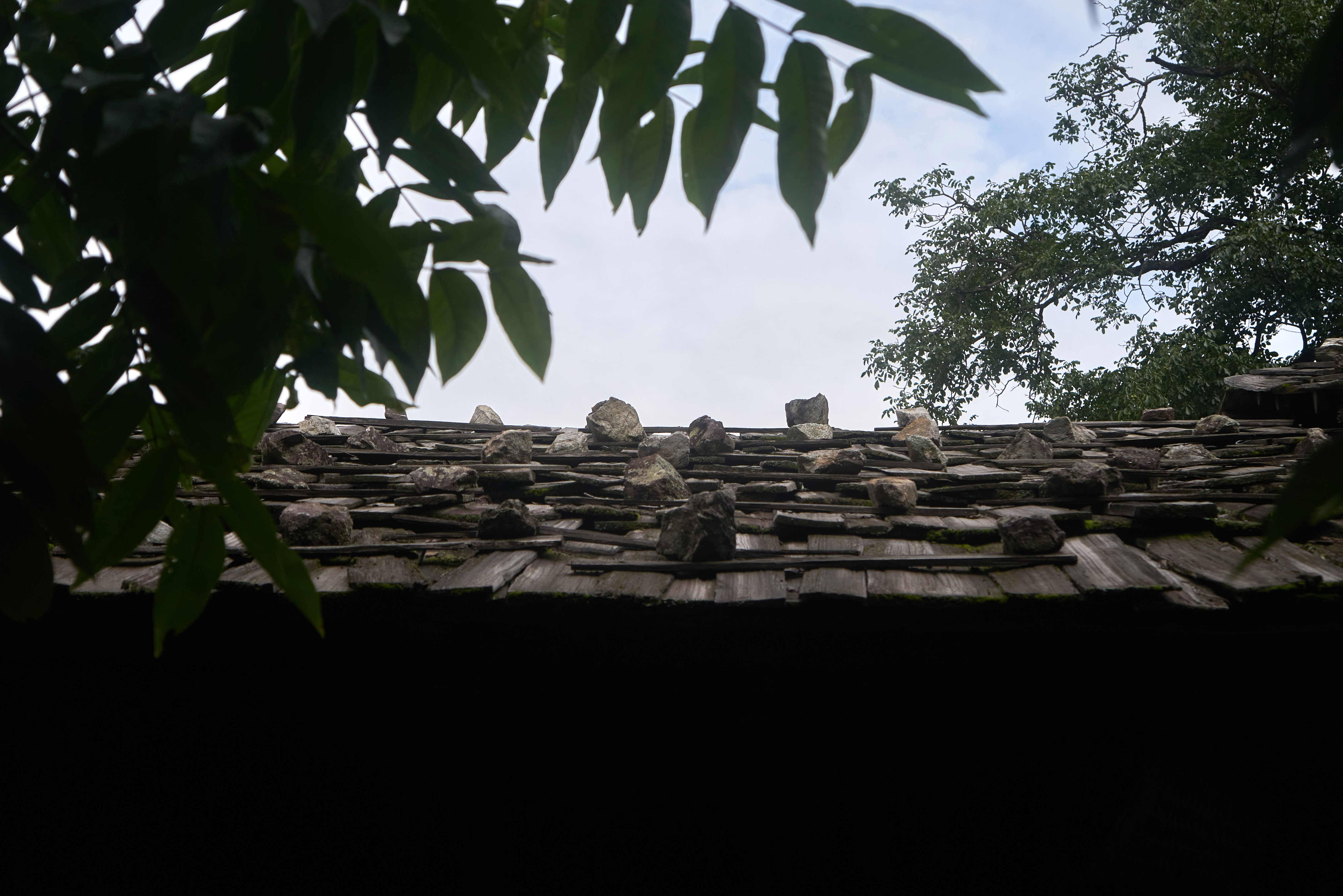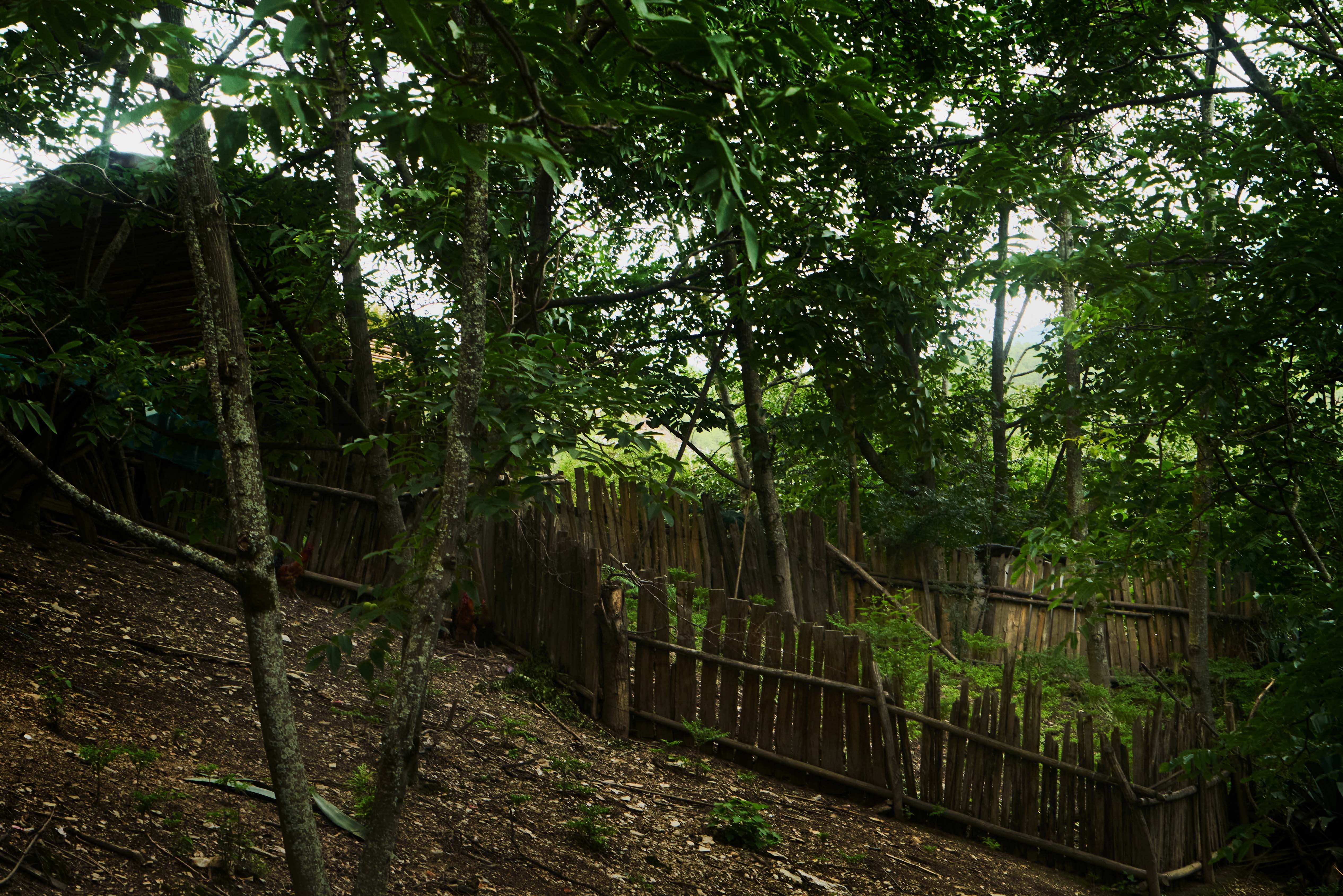 利用制作瓦板时的剩余木料搭建篱笆‍‍‍‍‍‍‍‍‍‍‍‍‍‍‍‍‍‍‍
同时,出于对森林资源的保护,国内已无法再随意砍伐,如今能做成50公分左右瓦板的大直径树木已经非常少。一般来说,一棵冷杉或红松生长60年至70年才能"成材"、有了"木心",可用于制作瓦板。当树的直径达到50公分以上,才能制作成宽度在20-30公分左右的瓦板。现存的尺寸在50公分左右的老瓦板,都是由几十年前砍伐的1.2米以上的大直径木材制作而成,抗变性和防水性更好。因此这些大尺寸的老瓦板也几乎成为"绝版"。
At the same time, due to the protection of forest resources, we can no longer cut down trees at will, so today there are very few large-diameter trees that can be made into shingles of about 50 centimeters. Generally speaking, a fir or red pine tree grows for 60 to 70 years before it "becomes timber" and has a "heart", which can be used for making shingles. When the tree's diameter reaches 50 centimeters or more, it can be made into a shingle board with a width of about 20-30 centimeters. The existing old shingle boards with a diameter of about 50 centimeters are made of large-diameter wood of more than 1.2 meters cut down decades ago, which is more resistant to change and waterproof. Thus, these large-sized old shingles have almost become "out of print".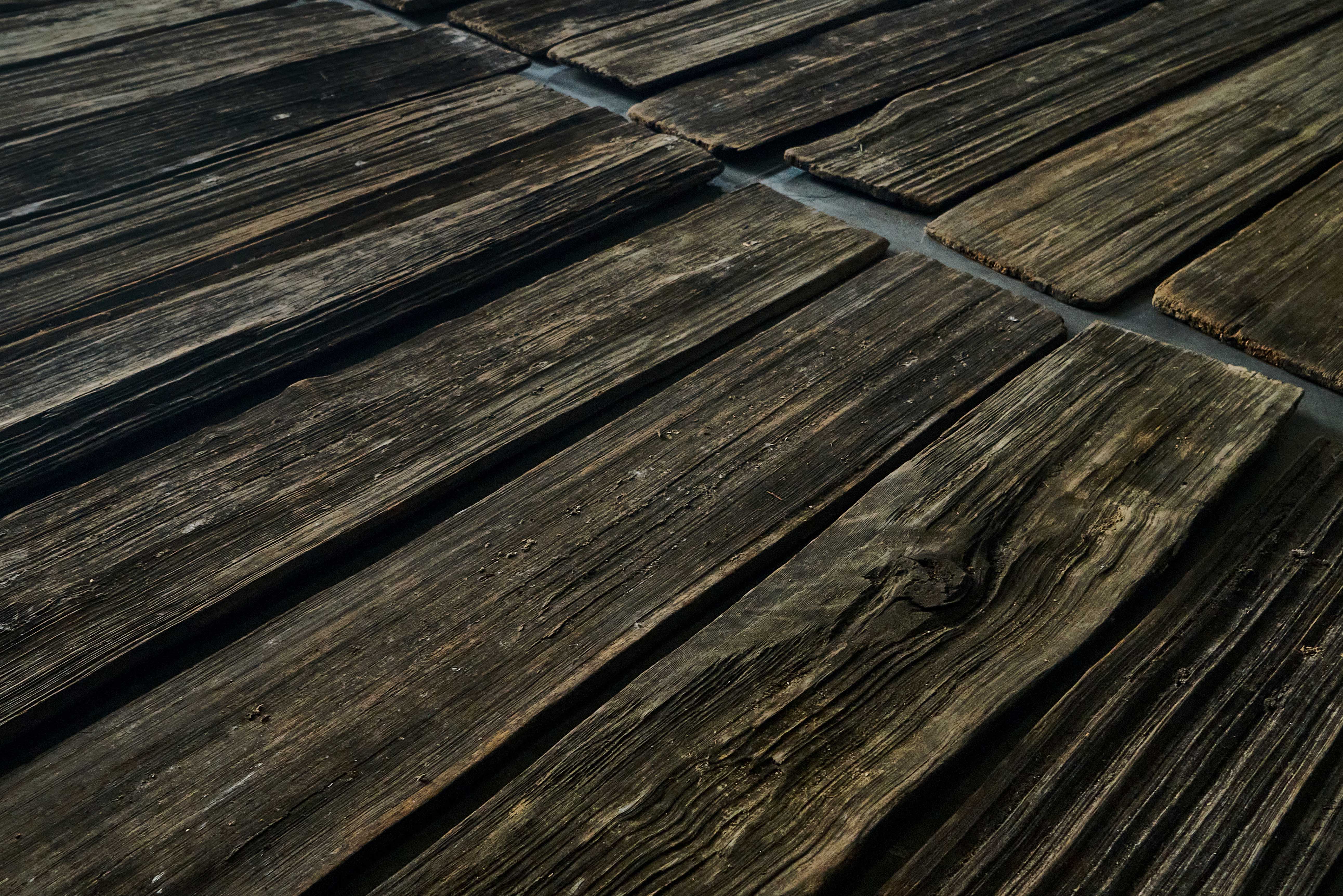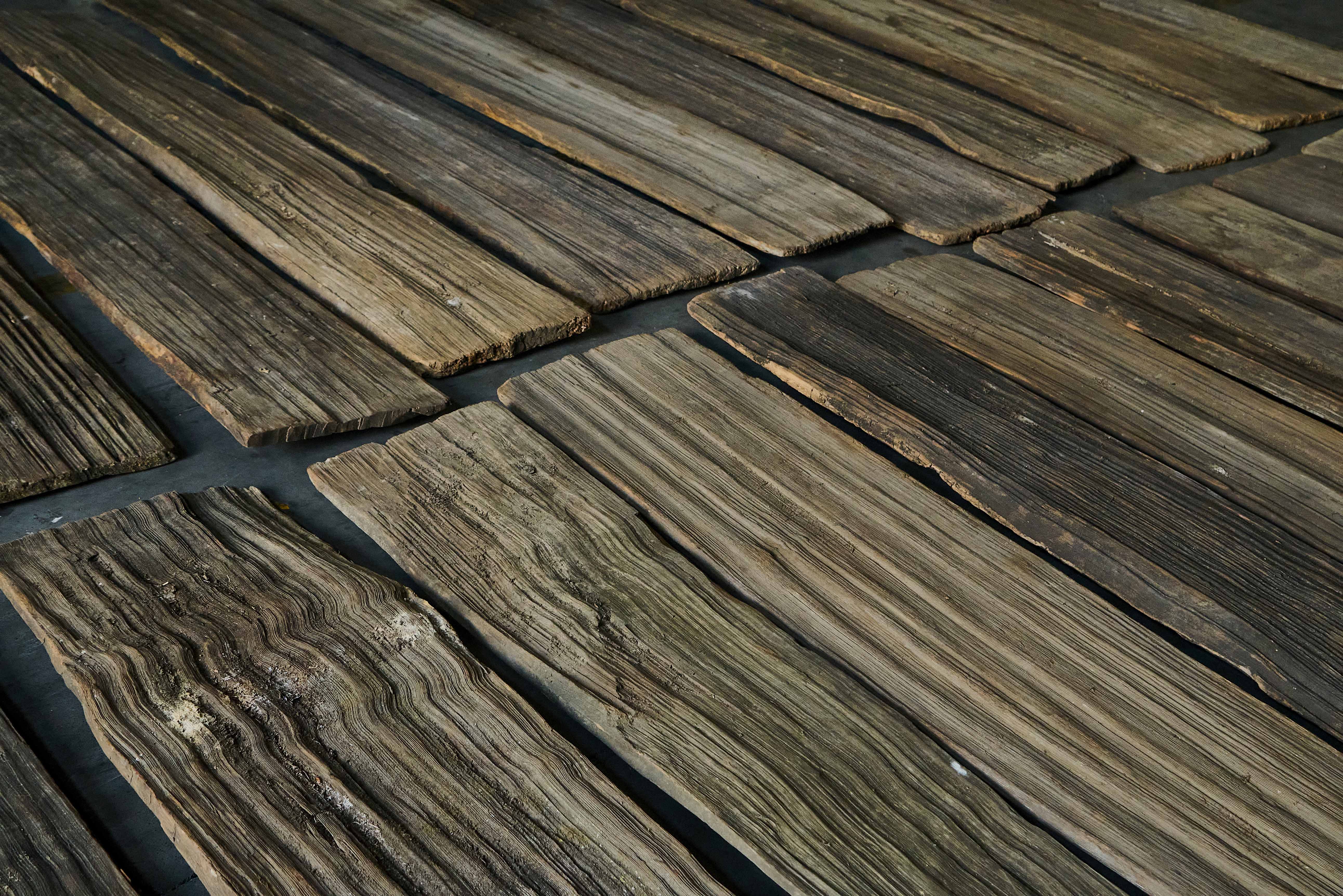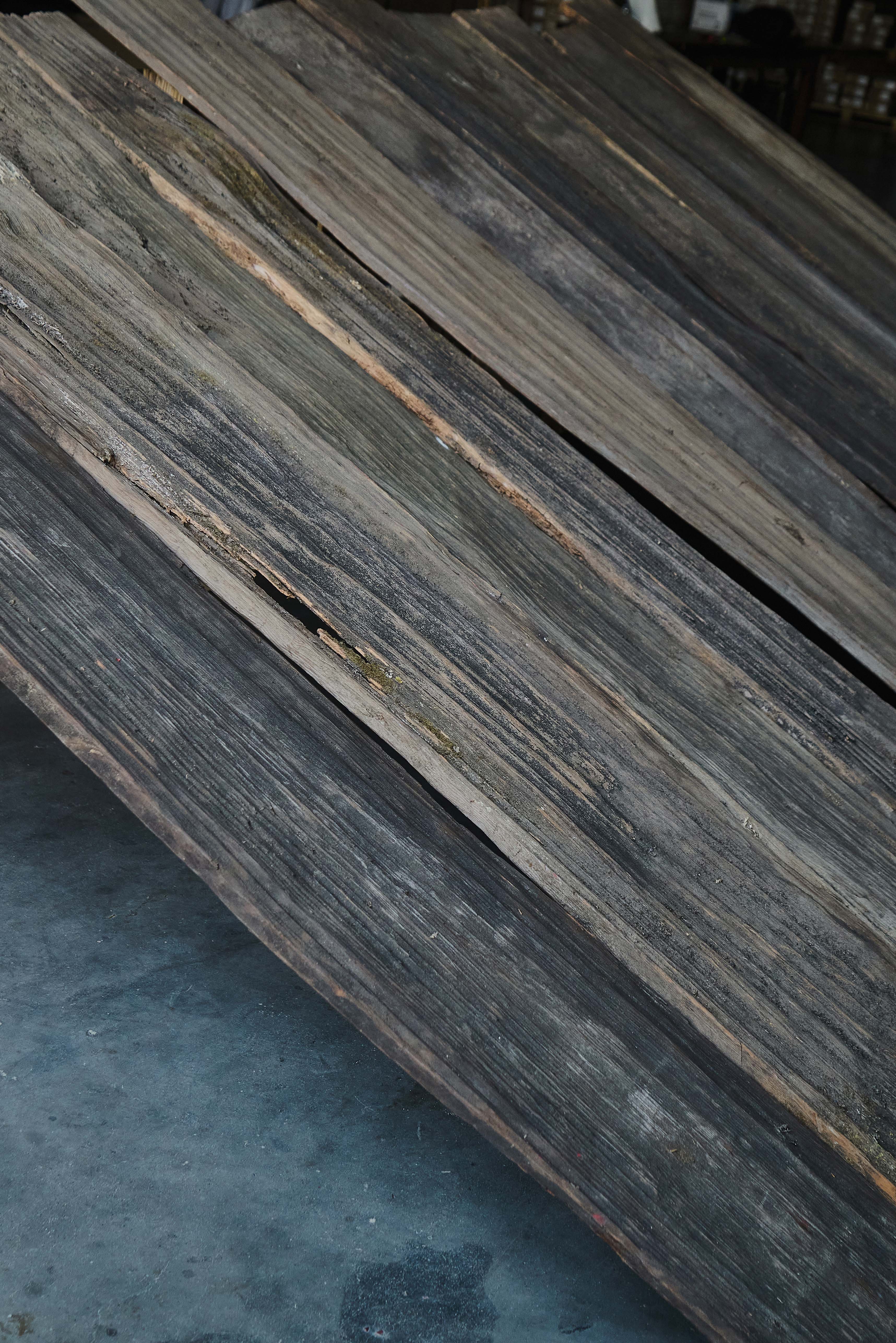 所以,我们将这些大尺寸的老瓦板进行了回收,以保留它们重新再利用的可能性——可以继续用作新的建筑木瓦,也可以用于户外墙面、围栏、装置、器皿等。
So, we recycled these large old shingle boards to preserve the possibility of re-use them - either to continue to be used as new architectural shingles or for outdoor walls, fences, fixtures, utensils and more.
即使瓦板结束了"瓦"的使命,属于瓦板的自然生命力与传统文化记忆仍然可以通过设计与思考得到延续。
Even if the wooden shingles end their mission as roof tiles, their natural vitality and traditional cultural connotations can still be continued through design and reflection.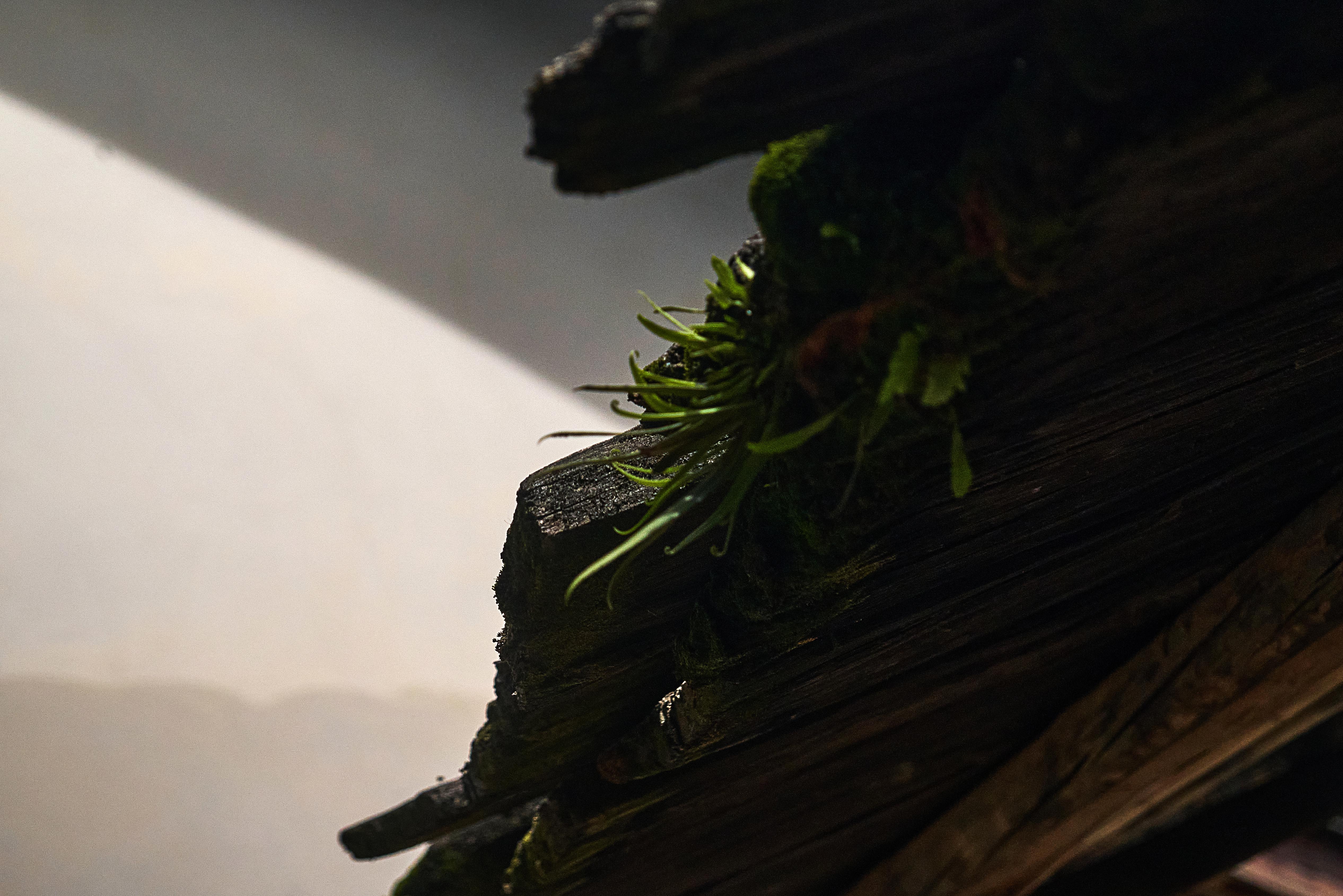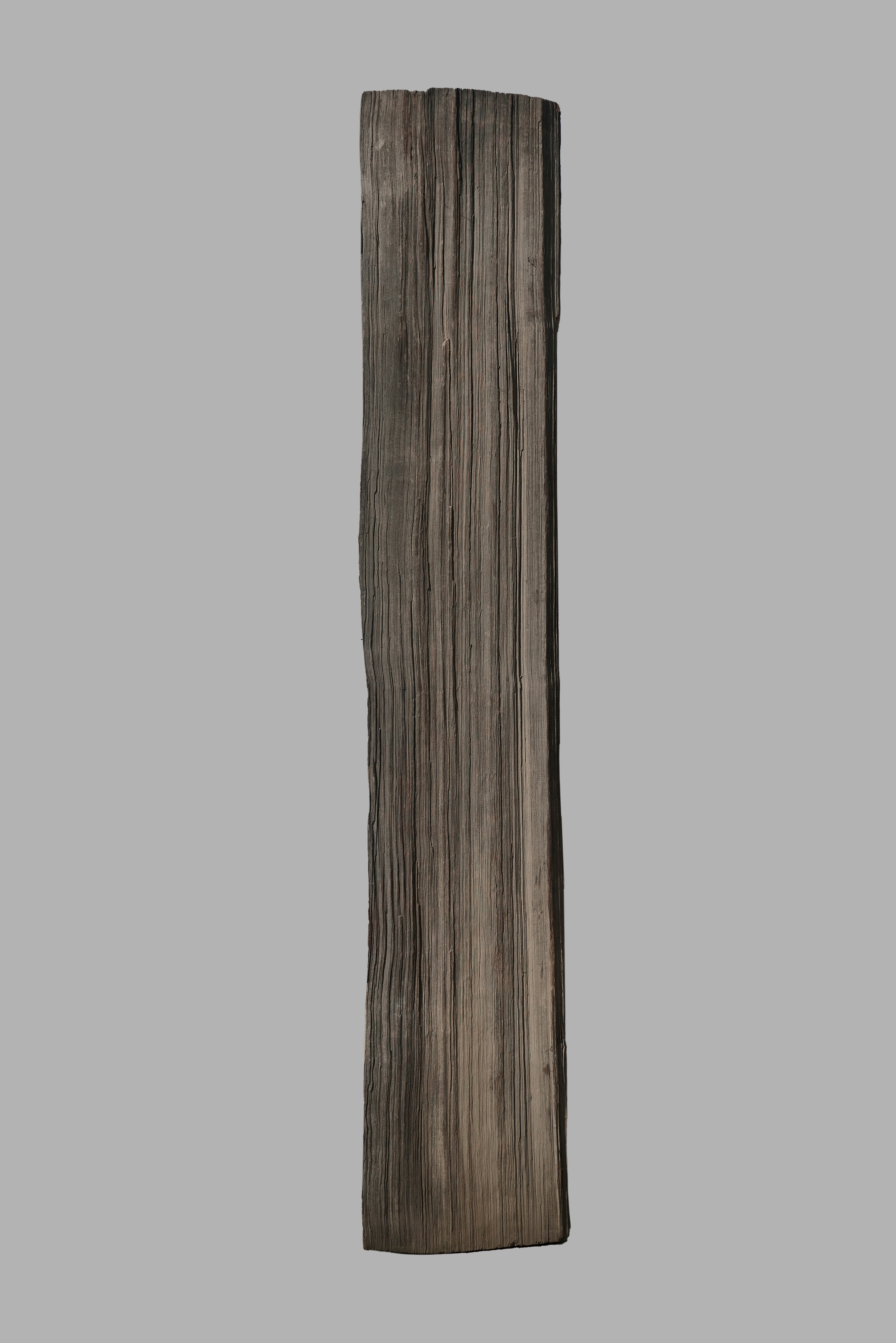 2023年11月10日19:00,设计庆典开幕,将发布由如恩设计的装置作品《檐》, 该作品使用了感物回收的传统劈撕工艺制作的大尺寸木瓦板,并在以"再Re-"为主题的设计展中呈现,展览时间:2023年11月11日至12月10日。
The Festival of Design opened on November 10, 2023 at 19:00 with the launch of the installation "Primordial" designed by Neri&Hu. The installation used our recycled large wooden shingles and was displayed in a design exhibition with the theme "Re -".
图片&视频|Vincent Kuan
Picture&Video|Vincent Kuan
特别感谢|范邱漆研所 黄大拿
Acknowledgement|Fan&Qiu Lacquerware Research Institude Dana Huang